Invesco QQQ ETF: The Trend Is Your Friend
Invesco QQQ (QQQ) has made an impressive recovery from the March lows, and the ETF is currently trading near historical highs in spite of all the economic and social uncertainty factors creating concerns among investors.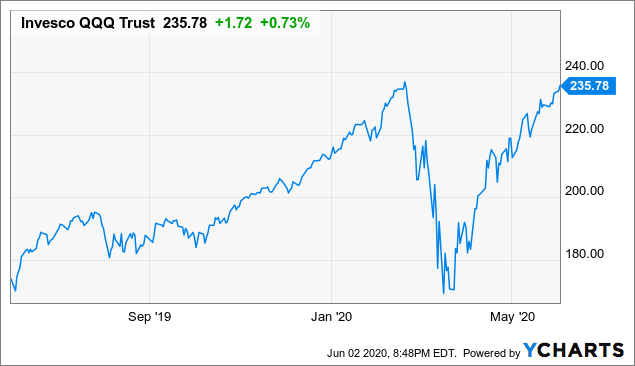 Data by YCharts
It is easy to understand the bearish argument for QQQ. Valuations are elevated at times when the economy is still in a recession and social unrest is reaching historical proportions. On the other hand, the bulls can argue that QQQ is home to high-quality stocks with solid fundamentals and pristine balance sheets. Besides, fiscal and monetary stimulus is producing a powerful tailwind for asset prices.
With QQQ facing such a strong set of cross-currents, trying to forecast the direction of the growth-oriented ETF is arguably harder than ever. Fortunately, you don't need to forecast the direction of the market to make smart investment decisions. On the contrary, measuring the main trend in prices and adjusting risk exposure accordingly can be a far sounder and smarter approach.
Zen And The Art Of Investing
Leonardo da Vinci is credited with saying that simplicity is the ultimate sophistication. Instead of trying to forecast the future direction of prices, it can make much more sense to assess the price action and manage your positioning based on currently observable data. This is in fact the approach followed by many of the most successful investors who ever lived.
In the words of Martin Zweig:
Big money is made in the stock market by being on the right side of the major moves. The idea is to get in harmony with the market. It's suicidal to fight trends. They have a higher probability of continuing than not.
In order to measure the trend in prices, we can use a simple indicator such as the moving average. The chart below shows the performance of QQQ in blue and its 50 days moving average in orange.
There are some false signals, of course, but the moving average does a good job of signaling the direction of the trend most of the time. A simple and straightforward approach would be staying invested in QQQ when the price is above the moving average and protecting your capital when prices are below the moving average.
Disclosure: I/we have no positions in any stocks mentioned, and no plans to initiate any positions within the next 72 hours.
Disclaimer: I wrote this article myself, and it expresses my ...
more