How To Protect Your Portfolio By Following The Signals From The Consumer Sectors
On the other hand, when investors are getting pessimistic and risk appetite is declining in the stock market, capital tends to seek refuge from uncertainty by investing in a more stable and reliable consumer staples sector.
Analyzing The Market Environment Through The Consumer Sector
In order to measure the relative performance of RCD versus RHS, we can build a relative return ratio, between the two sector-tracking ETFs. The ratio is the yellow line in the chart below, and the 100-day moving average in such a ratio is the black line.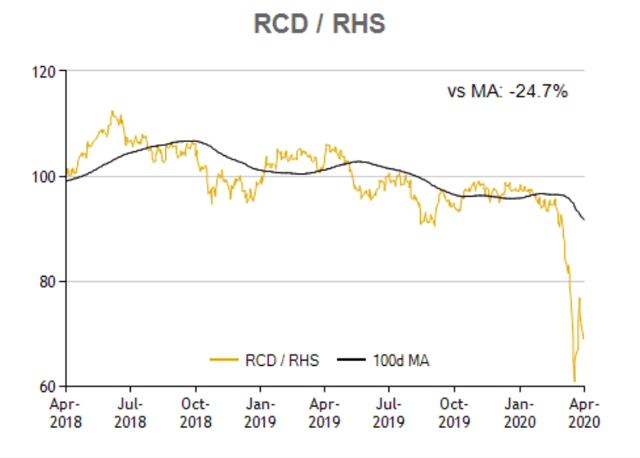 Source: ETFReplay.
When this ratio is rising, it means that consumer discretionary stocks are outperforming consumer staples stocks, so risk appetite is increasing among market participants. Conversely, when the ratio is declining, this means that money is flowing away from risky stocks and towards safer alternatives in the consumer space.
When the relative ratio is above the 100-day moving average, meaning that risk appetite is rising, the strategy is invested in SPDR S&P 500 (SPY). Conversely, when the ratio is below the 100-day moving average, the strategy buys iShares 20+ Year Treasury Bond ETF (TLT) for portfolio protection.
The chart shows the backtested performance statistics for the quantitative strategy versus a 60% global stocks / 40% bonds benchmark. Not only has the strategy produced superior returns, but also much smaller drawdowns over time.
The backtesting starts in May of 2007, because that is the first full month in which all of the ETFs are available for trading. Since then, the quantitative strategy has gained 633% versus 78.7% for the benchmark in the same period. The annual return is 16.8% for the strategy versus 4.6% for the benchmark.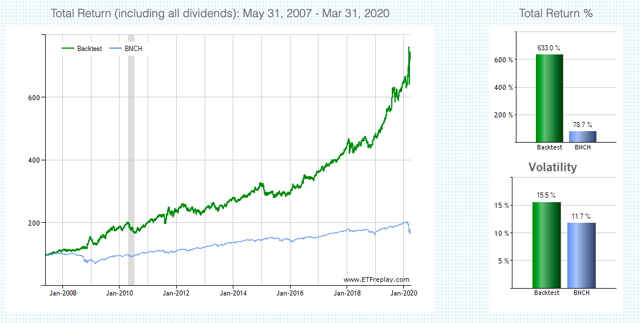 Source: ETFreplay
Such as important, the quantitative strategy has a maximum drawdown - maximum capital loss - of 17.5% versus a much larger drawdown of 35.4% for buy and hold investors in the benchmark.
In other words, the strategy is not only effective in terms of increasing returns, but the main benefit is that it does a great job in terms of risk reduction.
Disclaimer: I wrote this article myself, and it expresses my own opinions. I am not receiving compensation for it. I have no business relationship with any company whose stock is mentioned in ...
more