How To Protect Your Portfolio By Following The Signals From The Consumer Sectors
The U.S. stock market has just gone through the worst quarter in history, and investors are eager to know what this could mean for the markets going forward. Unfortunately, nobody can consistently predict the market, and trying to make those kinds of predictions generally produces more harm than good.
On the other hand, some quantitative indicators can provide valuable information to evaluate risk appetite and to make investment decisions accordingly. By reading the price signals from consumer discretionary and consumer staples stocks, we can gain key insights to manage portfolio risk in different environments.
A Tale Of Two Consumer Sectors
Consumer discretionary products and services are considered non-essential, but desirable when consumers have enough money to buy them. Typical examples include entertainment, restaurants, jewelry, fashion, and home improvement products.
For illustrative purposes, the table shows the top 10 holdings in Invesco S&P 500 Equal Weight Consumer Discretionary ETF (RCD), and it's easy to see what kinds of companies the sector represents.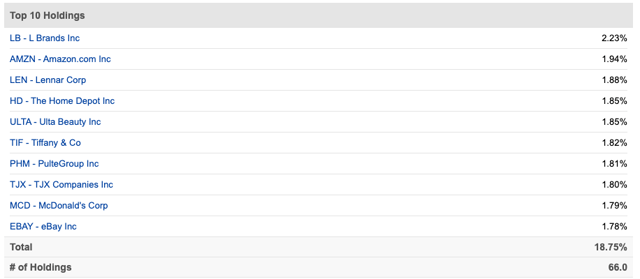 Source: Seeking Alpha
Alternatively, the consumer staples sector is focused on essential items such as food, beverages, tobacco, and household products. Most people are unable or unwilling to reduce spending on these kinds of items, even when under the most challenging economic conditions. Invesco S&P 500 Equal Weight Consumer Staples ETF (RHS) offers a portfolio of companies involved in areas related mostly to basic needs.
Source: Seeking Alpha
Not only that, but many of the companies in RHS also pay solid and recurrent dividends, and investors tend to gravitate towards safety and income in times of uncertainty. Since interest rates tend to decline in periods of slowing economic growth, the dividend payments from consumer staples stocks tend to become more attractive in comparison to fixed-income investments.
When risk appetite is rising and investors expect the economy to remain strong, chances are that the consumer discretionary sector will deliver bigger gains than the consumer staples sector, since consumer spending will be allocated to enjoyable products and services as opposed to bare necessities.
Disclaimer: I wrote this article myself, and it expresses my own opinions. I am not receiving compensation for it. I have no business relationship with any company whose stock is mentioned in ...
more