How To Buy Top Stock & ETF Breakouts On A Pullback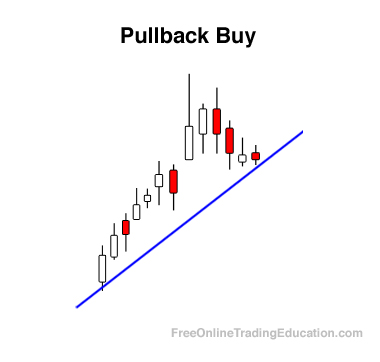 Pullback trading is a fantastic way to buy the best stock and ETF breakouts without chasing the price. Here's a simple and effective way to profit from trading breakouts on a pullback.
The majority of swing trade stock picks in our 17-year old nightly newsletter, The Wagner Daily, are set up to buy before an obvious breakout above resistance.
However, even the most astute trader cannot possibly catch every great breakout before it happens.
As such, you need to maintain a pullback trading strategy in your arsenal to take advantage of short-term weakness in uptrending stocks with relative strength.
Overview: How It Works
We generally prefer to buy a breakout stock below the range high whenever a tight trading range develops near a key moving average, such as the 20-day EMA or 50-day MA.
Not all stocks that break out will produce a low-risk entry point on a pullback. But for those that do, the pullback setup helps identify a low-risk entry point and prevents chasing the price action higher.
Our pullback trading method for buying breakout stocks is based on William O'Neil's famous CAN SLIM™ stock trading strategy. In a nutshell, here's what we look for:
Identify a breakout from a valid basing pattern in a stock or ETF that has moved higher on increasing volume and is part of an industry group with relative strength to the broad market.
A "valid basing pattern" is explained here.
Increasing volume is the footprint of mutual funds, hedge funds, and other institutions accumulating the stock or ETF. As such, volume should surge higher than average to confirm each breakout. At a minimum, volume should swell noticeably higher than the average volume of the previous ten days.
Once a breakout setup is located, we then put the stock or ETF on our internal watchlist and monitor the price action for a two to three-day pullback.
How We Bought Semiconductor ETF (SMH) On A Pullback
Disclaimer: Past results are not necessarily indicative of future results. There is a high degree of risk for substantial losses in trading securities. All data and material on this website and/or ...
more