How Are Industrial ETFs Expected To Perform In 2021?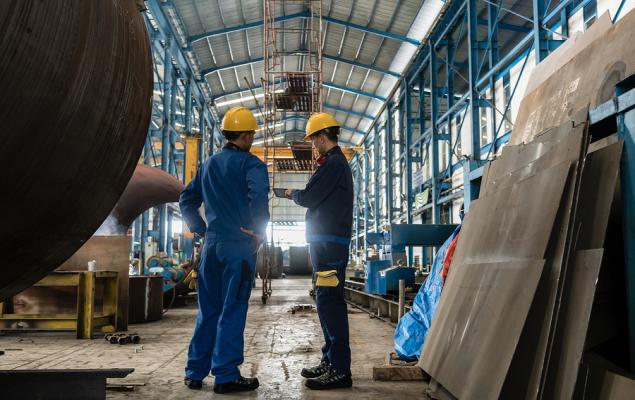 Image: Bigstock
The industrial sector, which faced disruption in global supply chains and factory closedowns, is expected to rebound on recovery from the coronavirus-led slump. The introduction of a coronavirus vaccine and addition of stimulus are expected to drive demand and economic activities in the sector.
Also, the latest ISM Manufacturing PMI data for the United States is painting a rosy picture for the sector. The metric rose to 60.7 in December 2020 in comparison to 57.5 in November and surpassed forecasts of 56.6, per a Reuters article. Notably, the manufacturing sector, which makes up 11.9% of the U.S. economy, witnessed the strongest growth rate since August 2018 (per the same article). Going on, 16 out of 18 manufacturing industries witnessed growth in December.
The New Orders Index climbed 67.9%, up 2.8 percentage points from the November reading of 65.1%. The Production Index recorded 64.8%, rising 4 percentage points from the November reading. The Backlog of Orders Index touched 59.1%, 2.2 percentage points higher sequentially. The Supplier Deliveries Index reading was 67.6%, increasing 5.9 percentage points from the November figure.
Will the Sector Perform Well in 2021?
Democrats have taken control of the U.S. Senate with two Georgia victories. Notably, an effective control of the U.S. Congress by the Democrats is likely to bring in higher fiscal stimulus funding and faster implementation of nationwide vaccination in order to curb the pandemic along with a higher allotment of funds for infrastructural development and boosting jobs in the near future.
Meanwhile, many economists and financial experts are speculating and fearing that complete control of Democrats over the Congress may lead to implementation of higher corporate taxation and stricter regulations on big technology and communication providers. However, it is being expected that such changes will not be imposed immediately.
The beginning of the inoculation process among people is highly driving optimism. Notably, the two front-runners in the COVID-19 vaccine race, namely, Moderna (MRNA) and Pfizer/BioNTech, have received the emergency use authorization from the FDA for their coronavirus vaccines. This positive development has increased hopes that the economy will reopen and gradually operate at the pre-pandemic level.
Disclaimer: Neither Zacks Investment Research, Inc. nor its Information Providers can guarantee the accuracy, completeness, timeliness, or correct sequencing of any of the Information on the Web ...
more