Gold: Weekly Bullish Sentiment Targets The 1,465-1,450 Area As Major Buying Opportunity For 2019
The average weekly price for gold is at $1,465. The Sell 1 level is at $1,478 on the weekly. The market went up today, Friday 13th, to a high of $1,477.50 and that satisfied the criteria to go short the market, which we recommended to our subscribers.
One of the things that we do is that we advise and keep our subscribers alert. We use a Live Trading Room and text messages to let subscribers know when a trigger is hit. This morning with the $1,477.50 trade, we already took out about $440 per contract. It seems that now the market, after touching the $1,477 average price on the day, has reverted back down and activated the Buy 1 level of $1,463 as the next target. The weekly average is $1,465.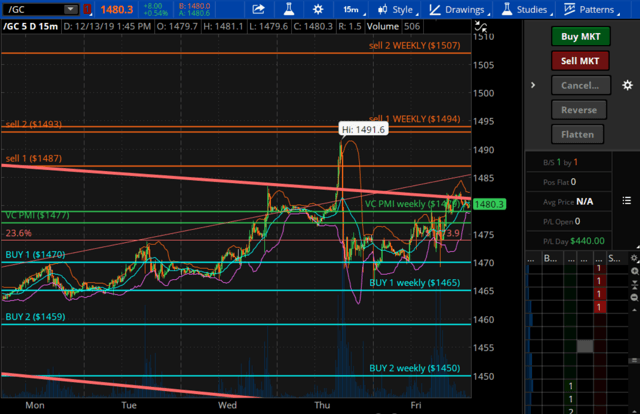 Courtesy: TradeStation Technologies
The VC PMI
As self-directed traders using the Variable Changing Price Momentum Indicator (VC PMI), we basically use this information for us to execute trades in our account at Ticker Tocker, which also verifies every trade we make.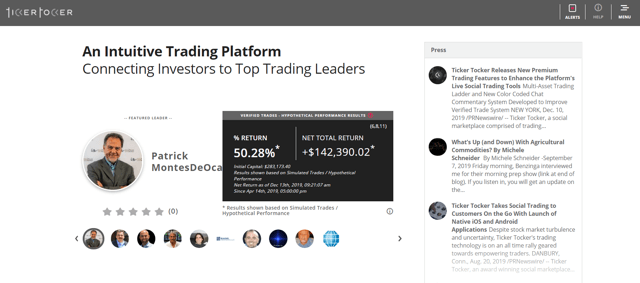 One thing that we do a little differently is that we use the VC PMI to trade Triple X high velocity ETFs, such as JNUG, NUGT and DUST. Our results are based on trading NUGT, DUST, and SILJ for the silver market. These are Triple X velocity ETFs that I would not recommend holding onto long term, but we use to take the risk out of a futures contract shortdust - term by not having margin on the trade. We are using the Variable Changing Price Momentum Indicator (VC PMI) on the gold market, but positioning my capital in cash value asset, such as NUGT or DUST.
We are long DUST, which is a Triple X velocity ETF that basically is a bear ETF. What this does is that the value of the ETF goes up as the price of gold goes down. I use this short-term whenever I see a short-term move in the market that I can take advantage of and use it as a hedge or speculative instrument. The volatility is fantastic. The low made today was at 6.63 and we are trading last at 7.17 - and that is one day's trading range. This is a way for us to manage the risk or transfer the risk of a margin for a futures contract into a cash-value asset. The velocity is based on the underlying instrument, either futures or stocks. In the case of USLV, another ETF, which is a double velocity ETF, it is based on the volatility of the futures contract.
Disclosure:I am long DUST.
To learn more about how the VC PMI works and receive weekly reports on the E-mini, gold and silver, check us out on more