Four High-Yield ETFs Returning Value And Dividends To Investors
Before the crash, BIZD was at $17.00 per share.
At the bottom, it touched $6.80 per share. After the crash, BIZD recovered to peak at $13.44 on June 8.
The ETF's share price has drifted back down to $11.61 and currently yields 12.4%.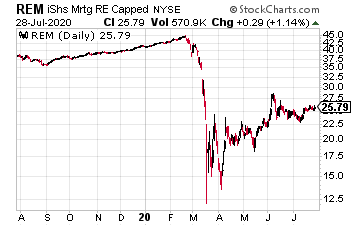 In the real estate investment trust (REIT) world, investors look to the mortgage or finance REITs for high-yield. For this review, the iShares Mortgage Real Estate ETF (REM) represents the sector.
Before the pandemic-stoked stock market crash, the REM share price peaked at over $48.00. At the bottom of the crash, it traded for $13.03 per share.
That's an unthinkable fall in less than five weeks. The post-crash peak for REM occurred on June 8, when the stock closed at $29.12 per share. Now REM is back down to $25.25.
The current yield is 12.7%.
The energy midstream sector, specifically master limited partnerships (MLPs) in that sector have struggled since the 2015 energy sector crash to get back on track. In December 2019, the sector had its best month in years, gaining 10%.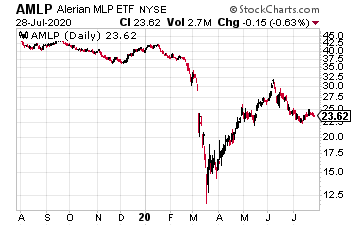 It looked like MLP fortunes had changed. Then COVID-19 hit the world. The ALPS Alerian MLP ETF (AMLP) was at $44.35 in January.
By the market bottom in March, AMLP shares touched bottom at $12.05.
The recovery had AMLP back up to $31.70 on June 8. The share price has fallen back down to $24. This fund has slashed its dividends, but the MLP sector currently yields around 12%.
You can find high-quality large-cap MLPs with double-digit yields and stable dividends.
Disclosure: PFFA is one of my largest investment positions, and most of my more