FedEx Earnings Put Transport ETFs In Focus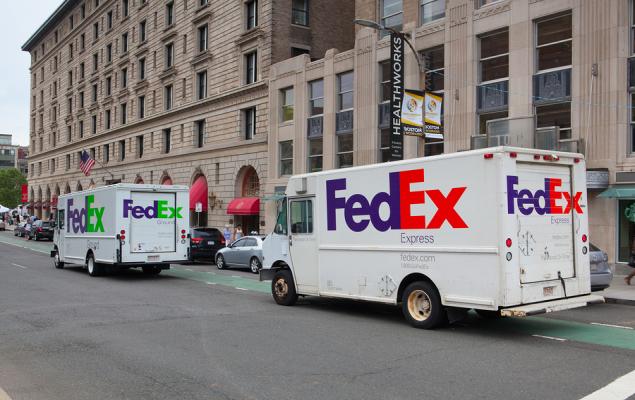 Image: Bigstock
After the closing bell on Mar 17, transport bellwether FedEx (FDX - Free Report) reported mixed third-quarter fiscal 2020 results. The courier company missed earnings estimates but beat on revenues. It also suspended its 2020 fiscal outlook due to the outbreak of the coronavirus.
Earnings per share came in at $1.41, missing the Zacks Consensus Estimate of $1.49 and declining from the year-ago earnings of $3.03. Revenues grew 2.9% year over year to $17.49 billion and edged past the estimated $17.01 billion.
The revenue beat has sent FDX shares jumping nearly 8% in aftermarket hours. FedEx has a Rank #4 (Sell) and an impressive VGM Score of B. It currently falls under a top-ranked Zacks industry (top 43%).
ETFs in Focus
The FedEx report has put transport ETFs — iShares Dow Jones Transportation Average Fund (IYT - Free Report), SPDR S&P Transportation ETF (XTN - Free Report) and First Trust Nasdaq Transportation ETF (FTXR - Free Report) — in focus. All these funds currently have a Zacks ETF Rank #4 (Sell).
IYT
The ETF tracks the Dow Jones Transportation Average Index, giving investors exposure to a small basket of 20 securities. Of these, FedEx occupies the fourth position with 7.8% of the assets. Within the transportation sector, railroads, and air freight and logistics take the top two spots with 35.9% and 25.7% share, respectively, while trucking (17.8%) and airlines (14.5%) round off the next two. The fund has accumulated nearly $387.2 million in AUM while it sees a good trading volume of around 217,000 shares a day. It charges 42 bps in fees per year.
XTN
This fund follows the S&P Transportation Select Industry Index and uses almost an equal-weight methodology for each security. Holding 43 stocks with AUM of $94.6 million, FedEx accounts for 2.3% share in the basket. The product is heavily exposed to trucking, which represents more than one-third of the portfolio while air freight & logistics and airlines take up 23.6% and 20.5% share, respectively. The fund charges 35 bps in fees per year from investors and trades in light volume of about 18,000 shares a day.
Disclosure: Zacks.com contains statements and statistics that have been obtained from sources believed to be reliable but are not guaranteed as to accuracy or completeness. References to any specific ...
more