ETF Watchlist: Week Of May 8, 2017
Stocks had another good week. Tech stocks once again led the way with the Nasdaq posting a weekly gain of 0.9%. That pushes the sector's market-leading year-to-date gain to almost 14%. The Dow and S&P 500 posted similar, yet more modest, weekly gains and are now up 6-7% on the year.
The bulls remain firmly in control. The Q1 earnings season has delivered almost exactly what the markets had hoped it would. We're well over halfway through this season's numbers and so far companies have delivered year-over-year earnings growth of 13.5% and revenue growth of 7.6%. Moreover, nearly ¾ of earnings reports and ⅔ of revenue results have beaten analyst expectations.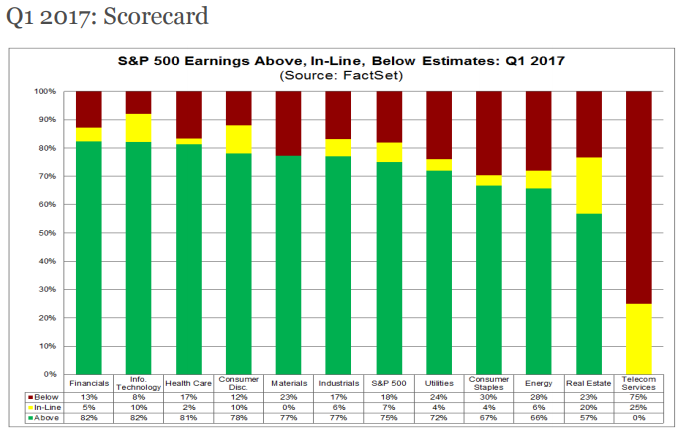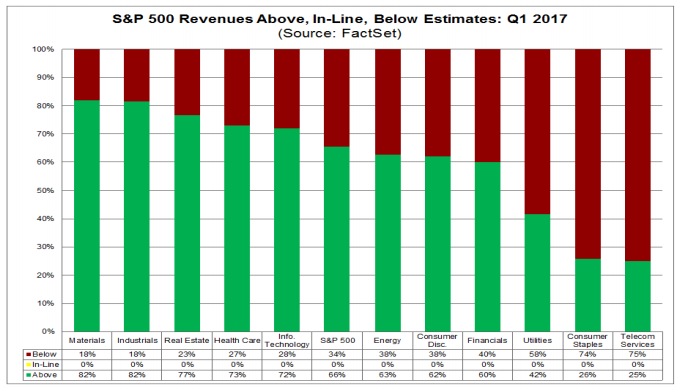 These are strong numbers almost any way you cut it. I argued recently that the next move up in equities needed to be fueled by actual earnings growth instead of multiple expansion or hopes of tax cuts and it looks like that is indeed what we're getting. This quarter's numbers have pushed the S&P 500's forward P/E ratio down to 17.8. That's still expensive by historical standards but not nearly as expensive as it's been for the last several quarters.
And, of course, I'd be remiss not to mention the American Health Care Act bill that narrowly made its way past the House this week and now heads over to the Senate. The unpopular bill (a Quinnipiac poll from back in March showed just 17% of Americans supported Trumpcare) failed to move the markets to any significant degree while healthcare lobbies begin gearing up for a fight. Continue to monitor healthcare and insurance stocks and ETFs because this fight is likely to get ugly and could have big consequences for these sectors.
While it doesn't make this week's list, keep an eye on the markets in France. As expected, Emmanuel Macron beat Marine Le Pen handily in the country's presidential election and removes a degree of political uncertainty that the markets generally cheer. The iShares MSCI France ETF (EWQ) gained 5% this past week as election results gained more certainty.