Electric Vehicle ETF In Reverse Spells Opportunity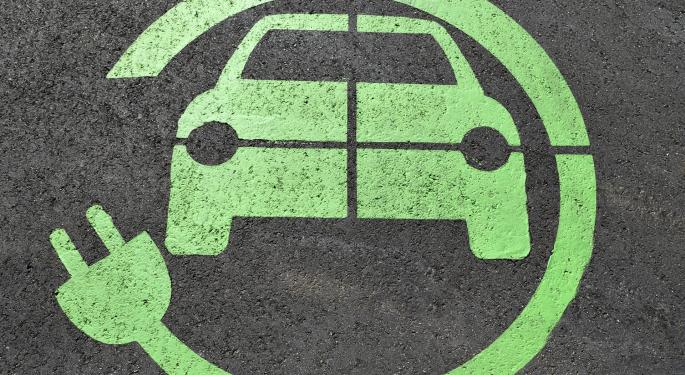 To say this has been a big week for electric vehicle stocks and the related exchange-traded funds is an understatement.
What Happened: First, there was Tesla Inc's TSLA Battery Day. Then came the edict from California Gov. Gavin Newsom that all new cars sold in the state starting in 2035 will be electric. It remains to be seen if that decree holds up to inevitable legal challenges, but hey, it's out there and could serve as a catalyst for EV equities and ETFs.
All the while the Global X Autonomous & Electric Vehicles ETF DRIV is lower by 6.38% over the past week.
Why It's Important: In theory, this should be a go-go week for an ETF like DRIV.
DRIV, which tracks the Solactive Autonomous & Electric Vehicles Index, is clearly sporting price action that suggests otherwise. That weakness could be more opportunity than long-term trend. After all, it's hard to ignore the fact that DRIV is higher by almost 46% over the past six months while allocating less than 4% of its weight to Tesla.
Those data points confirm DRIV offers investors diminished single stock risk and deep reach into the broader EV ecosystem, which is pivotal at a time of still nascent EV growth.
"The BEV market in the US accounted for 1.5% total new light vehicle registrations (+0.1% YoY), with Tesla having the lions share," notes IHS Markit. "Battery Electric Vehicle sales in North America will be significantly bolstered by tight competition and eager buyers within a unique regional segment: the electric pickup truck."
What's Next: DRIV offers some electric pickup truck exposure, both on the original equipment manufacturer side as well as via components makers. That should be a plus for investors as these products hit the road, perhaps as soon as 2022.
"Numerous manufacturers have announced EV truck intentions with the earliest expected at the end of 2021 and early 2022 with offerings from GM, Rivian, and Tesla. Other models are also expected from Ford and FCA," according to Markit.
© 2020 Benzinga.com. Benzinga does not provide investment advice. All rights reserved.