Dow 30,000: In Case The Next Stop Is Down
In Case The Next Stop Is Down
If you're concerned about a near-term market pullback, here's a simple way of protecting your portfolio. For the purposes of this example, we'll start with these assumptions:
Your portfolio is worth $500,000.
It's closely correlated with the Dow.
You have enough diversification within it to protect against stock-specific risk.
You can tolerate a decline of up to 20%.
if you have a smaller risk tolerance, you can use the same approach entering a smaller decline threshold; similarly, if you have a larger or smaller portfolio, you can adjust Step 1 below accordingly.
Step 1
Divide $500,000 by the current price of the SPDR Dow Jones Industrial Average ETF (DIA), which was $340.43 as of Tuesday's close, to get 1,664 (rounded).
Step 2
Scan for the optimal, or least expensive, puts to protect against a >20% decline in 1,664 shares of DIA over your desired time frame. Here, we've used the end of the year.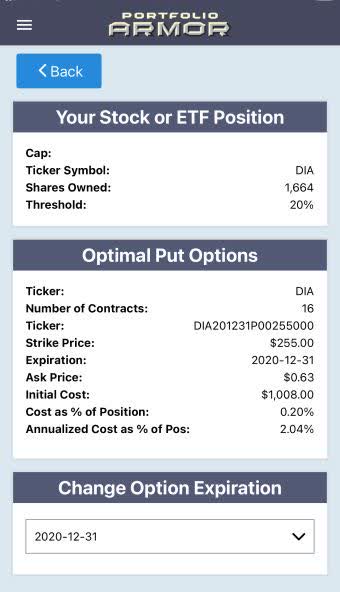 Screen capture via the Portfolio Armor iPhone app.
Note the cost here: $1,008, or 0.2% of portfolio value, which was calculated conservatively, using the ask price of the puts (in practice, you can often buy options at some price between the bid and ask prices). That worked out to an annualized cost as a percentage of portfolio value of 2.04%.
Step 3
Round up the number of DIA shares to the nearest 100 and repeat step 2.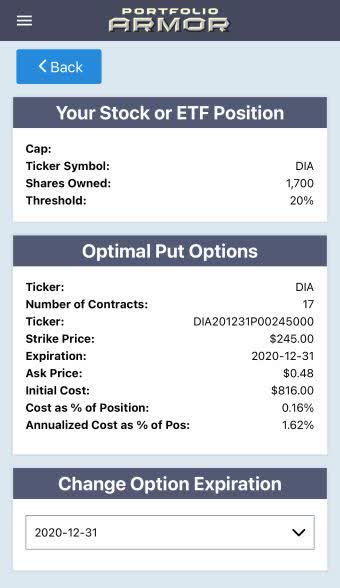 Note that, in this case, it was cheaper to hedge rounding up to the nearest round lot. The cost was $816, calculated conservatively again, at the ask. That's about 0.16% of a $500,000 portfolio, or 1.62% annualized. It's something to consider if you're risk-averse now.