Crypto Gets Crushed
Why Those Hedges
On our website, if you click the plus signs in the portfolio above, the positions expand to give you a better look at the hedges. For example, this is what the Square position looked like expanded.

As you can see, SQ was hedged with optimal puts. The other positions were hedged with optimal collars. Our system estimates returns both ways to determine which type of hedge is best. We elaborated on that process in a recent post: When To Hedge With Puts Versus Collars.
A Bad Day For Those Stocks
RIOT and TSLA were likely down on the Bitcoin drop. Tesla's drop affected other electric vehicle makers including its Chinese competitor Li Auto (LI).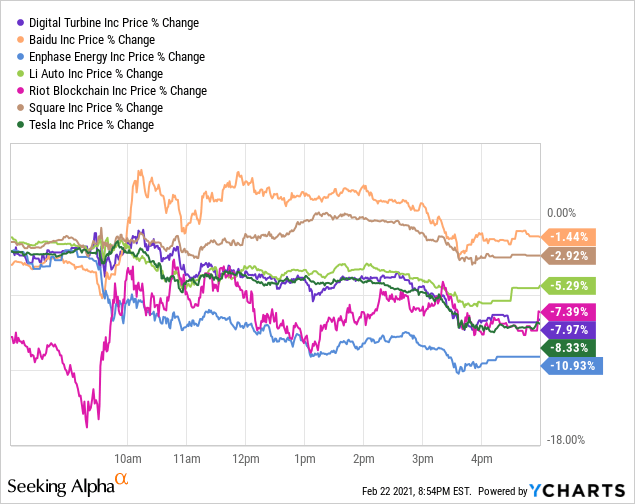 On average, the underlying securities in our hedged portfolio from Friday were down -6.32% as of Monday's close.
Not As Bad A Day For The Hedged Portfolio
Before we show the value of the portfolio on Monday, let's look at how we valued it on Friday, to illustrate a conservative assumption we make about options prices.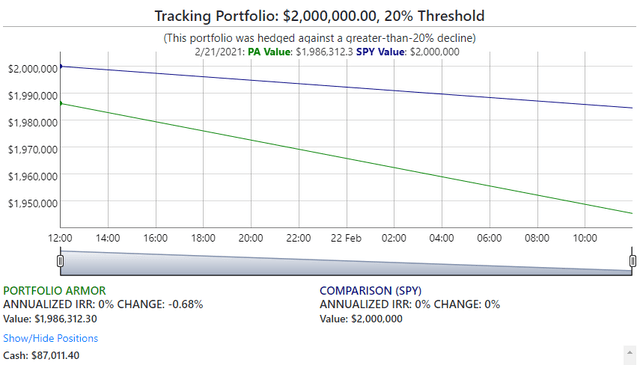 Value of the hedged portfolio as of Friday's close.
To be conservative, we assume the investor placed his hedging trades at the worst ends of their respective spreads: that he bought the puts at the ask, and sold the calls at the bid. We then track the daily performance of the portfolio valuing the options at the midpoint of their bid-ask spread or their intrinsic value, whichever is higher. Because of that, this portfolio's performance starts in a small hole, down 0.68%.
This was the value of the hedged portfolio as of Monday's close: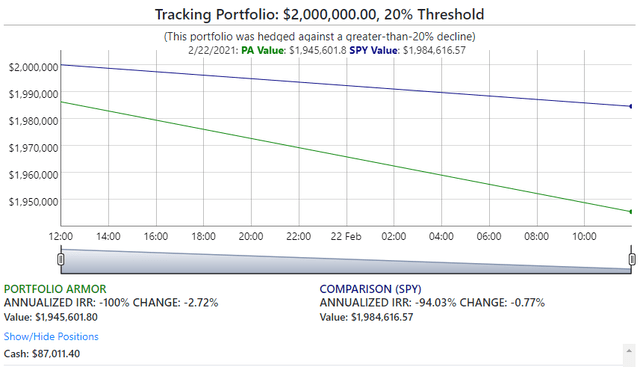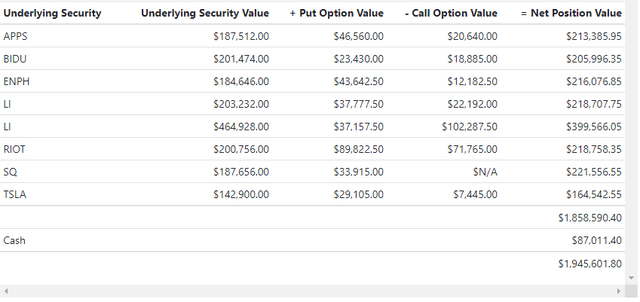 So on a day the underlying securities were down 6.32%, the hedged portfolio was down only 2.72% (even though this portfolio was only hedged against >20% declines).
Our System's Take On Bitcoin Names Now
As we noted last time, our system doesn't make top-down macro calls. Instead, it analyzes every stock and ETF with options traded on it in the U.S. every trading day, based on their total returns and options market sentiment on them. And each trading day we rank those names by our estimates of their potential returns over the next six months, net of hedging costs. Nevertheless, that bottoms-up process results in some broader macro trends. And one of the recent ones is bullishness on Bitcoin-related names.