Crypto Gets Crushed
If Bitcoin crashed tomorrow, it might not cause a market crash. What would make the stock market more vulnerable to a Bitcoin crash would be broader corporate exposure to Bitcoin. That may be starting to happen. In a recent post, we mentioned how the CEO of one of our top names, MicroStrategy (MSTR), convinced the CEO of another of our top names, Tesla (TSLA), to add Bitcoin to Tesla's balance sheet.

Earlier this month, MicroStrategy CEO Michael Saylor spread his gospel to representatives from thousands of other corporations.

What happens if dozens of the largest S&P 500 component companies add Bitcoin to their balance sheets, and then Karlin's prediction of a crypto bust comes to pass? Nothing good, for those companies' shareholders. That's how a Bitcoin crash could cause a market crash.
If this is the beginning of the Bitcoin long winter Karlin warned about, the stock market may have dodged a bullet with it happening now. That is, before Michael Saylor succeeded in getting Bitcoin onto more S&P 500 component balance sheets. If it's just a pullback, he'll have more time to do that on the next leg higher.
Investing From The Viewpoint Of Calamity
Last time, we wrote that our system had been bullish on Bitcoin-related names on Friday. We said that if you indicated you had $2,000,000 to invest and were willing to risk only a 20% decline over the next six months, the hedged portfolio it presented then would have included some Bitcoin-related names.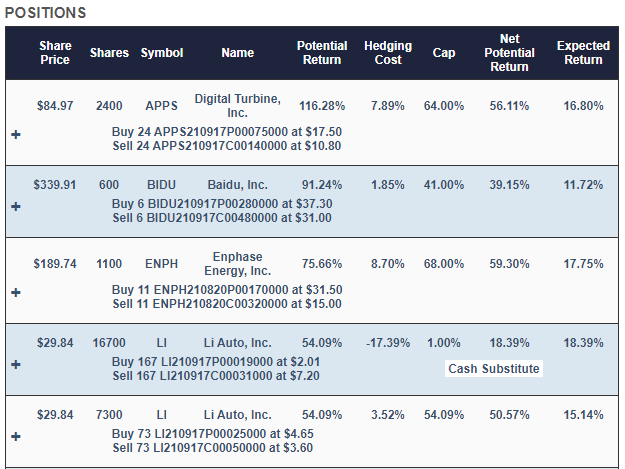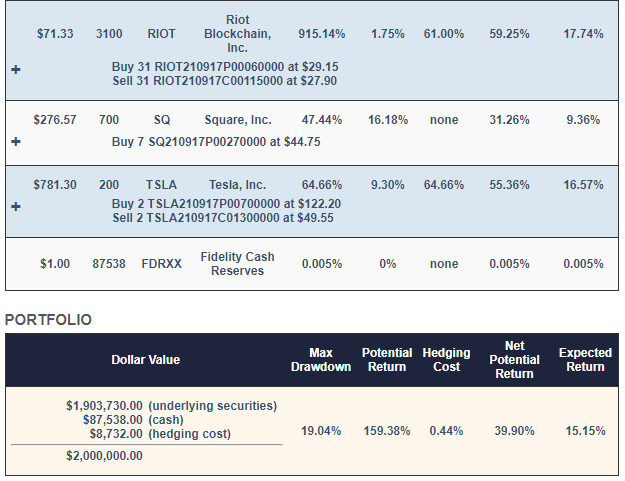 Screen captures via Portfolio Armor as of the hedged portfolio we presented in our last post. Data as of Friday's close.
As we noted last time, we used $2,000,000 and a 20% decline threshold in this example, but our system will create hedged portfolios for dollar amounts as small as $30,000, and decline thresholds as small as 2%.
Why Those Stocks
Digital Turbine (APPS), Baidu (BIDU), Enphase Energy (ENPH), Li Auto (LI), RIOT, Square (SQ), and TSLA were selected because they were among our top names - the ones that had the highest potential returns, net of hedging costs when hedging against a >20% decline on Friday. The last three names there had Bitcoin exposure, with Jack Dorsey's Square having added Bitcoin to its balance sheet before Tesla did. Our system started with roughly equal dollar amounts of each, and then rounded them down to round lots, to reduce hedging costs. It swept up most of the leftover cash from the rounding-down process into another LI position (this time tightly collared) to further reduce hedging cost.