Cash Is Flooding Into Cybersecurity
"Follow the money." That's what the profs in college used to say in my investigative reporting classes years ago.
It's also an effective way to think about investing. When cash is flooding into a class of stocks, they all move higher, and your job as an investor becomes a lot easier.
That's the situation at the moment in cybersecurity these days. According to CB Insights, venture capitalists invested a total of $7.6 billion in startups last year — double last year's number of $3.8 billion.
Likewise, the dealmaking was fast and furious. Venture capitalists put money into 548 companies, 17% more than in 2016.
That's right in line with a prediction made by CSO Online a few years ago that cyber spending would ramp sharply higher "to the tune of 12% to 15% year-over-year growth through 2021," with worldwide spending on cybersecurity topping a cumulative $1 trillion.
Opportunities in the Cybersecurity Sector
The cybersecurity "hits" just keep on coming.
Last year we had the Equifax breach, with the credit histories of 145 million people stolen from the credit agency's computers.
Already in 2018, chipmakers Intel, AMD, and ARM are under fire after researchers identified a pair of security flaws, nicknamed "Meltdown" and "Spectre," in the companies' processors.
Those incidents guarantee that even more money will flow into the cybersecurity sector in the years to come.
We've certainly seen that with the cybersecurity stocks inside the Total Wealth Insider portfolio, where we've seen aggregate gains of more than 50% over the last four months.
And it's also the case with the ETFMG Prime Cyber Security ETF (NYSE: HACK), which I started recommending back in August. Since then, the shares of this exchange-traded fund are up more than 12%.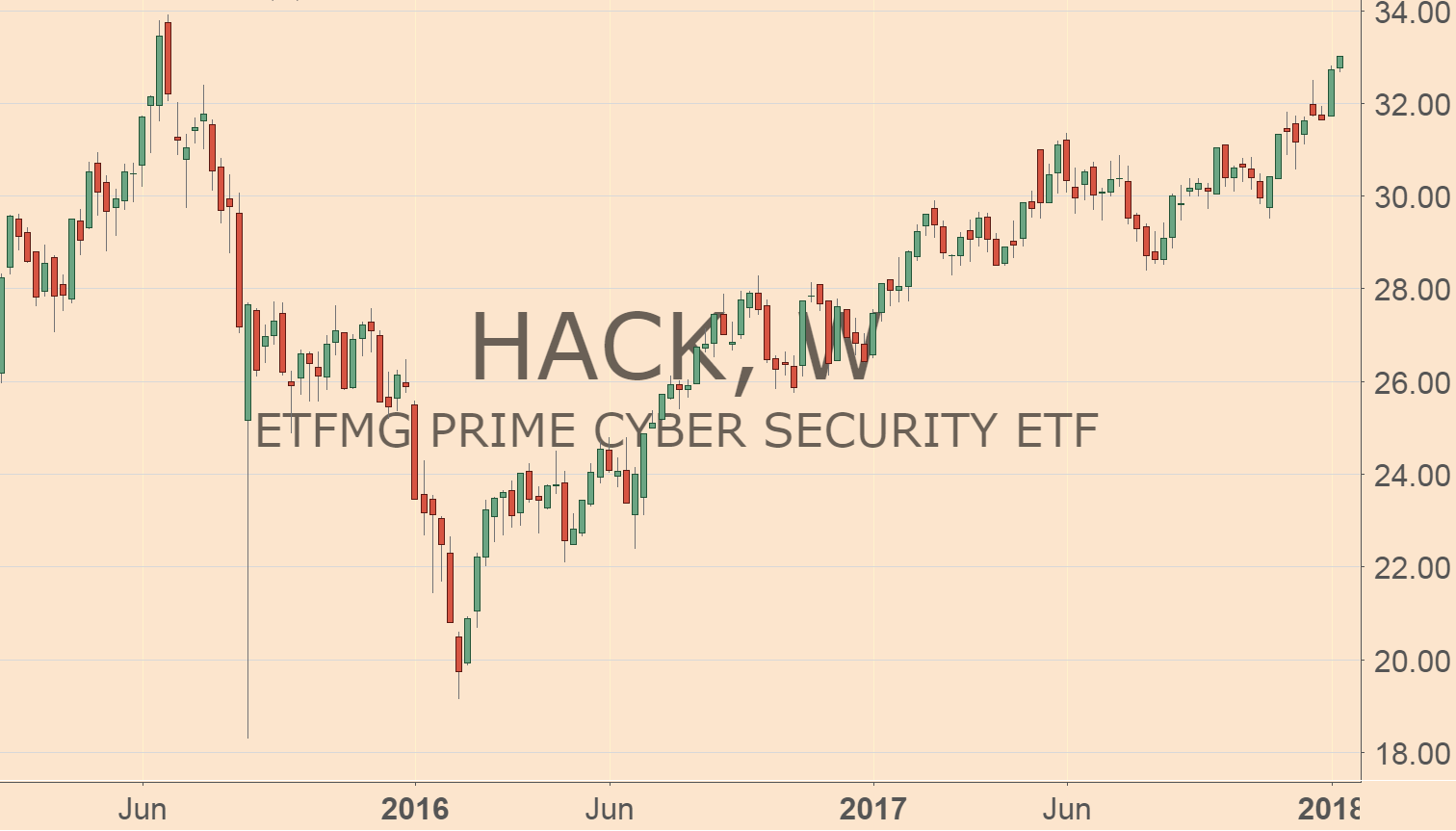 (Courtesy: TradingView.com)
The best part is, there are still massive new investing opportunities within the cybersecurity realm.