Buying Nasdaq Next Gen 100: The 'Smaller' Nasdaq ETF
It looks to me as if the FANMAGs are getting tired. For the last few weeks, they have moved ever more slowly on up days and gotten the worst of it on down days.
These rotations tend to be subtle at first. That's good for those willing to see it not as an anomaly but as the possible beginning of a trend. The indicators I use tell me big money is starting to rotate out of the large caps and into the next level down. We can still position ourselves while these are fairly priced.
I'm seeing ample evidence of a rotation into small- and mid cap firms. These are two areas I'm moving slowly and steadily into. Here's a third – something that's still large but not Titanic (and we all know what happened to "that" supposedly unsinkable vessel.)
By owning the Nasdaq Next Gen ETF (Nasdaq:QQQJ), we are not abandoning large caps wholesale. We are, however, recognizing that a recovering economy will lift more boats than just those biggest companies. In most cases, these "smaller" firms have farther to rise.
Tesla (Nasdaq:TSLA) being put into the S&P 500 will provide momentary respite as every mutual fund and ETF that indexes will have to sell off other holdings in order to add Tesla to stay consistent to the "new! improved!" (or maybe not) S&P 500 index. But for maximum gain, I believe it's time to visit the next level down.
Here are the top 10 holdings of QQQJ – numbers 101 to 110 on the Nasdaq in terms of market capitalization: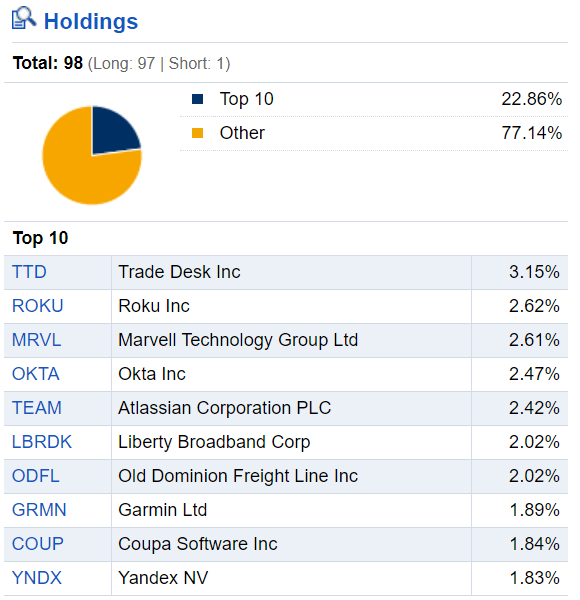 Source: Fidelity.com
Not exactly a bunch of also-rans! These are companies many investors already know. Please note that the disparity between the percentage holdings between No. 1 and No. 10 of QQQJ, the "second tier" of the Nasdaq, is quite slight. I really like that. It makes this ETF closer to an equal weight. For comparison, in the Nasdaq 100 ETF (QQQ), No. 1 holding Apple (Nasdaq:AAPL) is 13% of the portfolio; No. 10 Adobe (Nasdaq:ADBE) is less than 2%.
Disclaimer: I do not know your personal financial situation, so this is not "personalized" investment advice. I encourage you to do your own due diligence on issues I discuss to see if they ...
more