Buy This Green Energy Stock Before It Gets To $35
Good news for the bulls out there: After a really bearish stretch, we're entering what's likely to be a more bullish time. That makes right now the perfect time to go out and make some choice buys to make the most of what this upcoming seasonal trend has to offer us.
Green energy is ripe with targets, some better than others. The sector has had a rough few weeks as investors rotated from "pandemic" mode into "recovery" mode. Stocks like the cyclicals, financials, and especially old-line oil and gas companies have had an impressive run as investors anticipate increased demand as a result of economic recovery.
Those oil and gas companies I mentioned, as tracked by the Energy Select Sector SPDR Fund (NYSEArca: XLE), have tacked on around 26% over the past month.
On the other side of the proverbial coin, "green" and renewable energy stocks like the ones tracked by the iShares Global Clean Energy ETF (NASDAQ: ICLN) have taken a beating, down around 29% since Feb. 5.
But with renewable energy, it's a case of "what goes down must come up." We've talked about this many times before: Over the long run, government policy priorities and simple economic reality are incredibly bullish for this sector.
"Alternative energy" won't be "alternative" for much longer…
A Bearish Present Meets a Bullish Future
Given the pounding they've taken, it's naturally no surprise that green energy stocks have been in tough technical spots.
Again, using the ICLN ETF as a proxy for the entire sector, you can see it's trading below the major 20-day and 50-day simple moving averages – for a trader, that's just about every significant trend line in the book.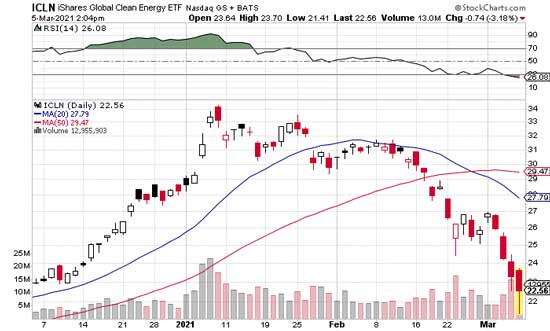 You can see by the relative strength index reading of 26.46 that the sector is oversold and undervalued right now, by quite a bit. That's not necessarily bad news. In fact, it's great news if you're shopping for stocks (which you absolutely should be at a time like this); it's certainly music to my ears.
Disclaimer: Any performance results described herein are not based on actual trading of securities but are instead based on a hypothetical trading account which entered and exited the suggested ...
more