Buy The Dip In China Stocks & ETFs
One of the biggest stories in the financial markets today is the White House contemplating limiting or completely choking off investment into China.

China stocks have plunged on the rumor with China ETFs down 4-8% from just their earlier September highs.
(Click on image to enlarge)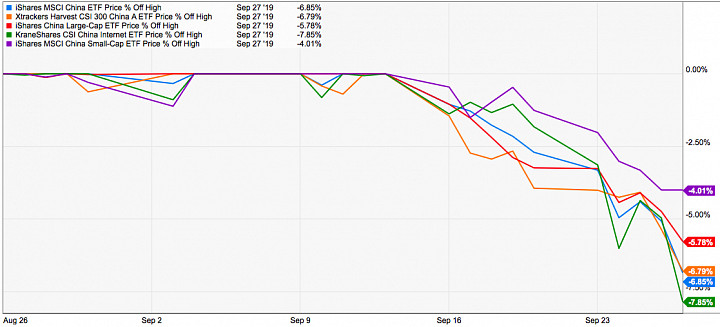 The natural reaction to this news (along with fears over the Huawei ban) is to abandon Chinese equity positions and redeploy capital elsewhere. On the contrary, I think this is the place to buy.
The Huawei ban is more of legitimate concern. If this ban sticks, this could really impact a number of U.S. tech companies as Micron's quarterly results and post-earnings conference call showed us. The ban on U.S. investment in China I feel is more political bluster than anything. The White House has a tendency to talk tough on foreign policy issues only to later soften their stance or fail to bring up the issue again at all. This is one of those scenarios. Is the U.S. really going to close off investment to China altogether? Very unlikely. This is a typical market overreaction.
Use this opportunity to pick up some cheaper shares of stocks like Alibaba, JD.com, and Baidu along with the China ETFs listed above.