Bull Markets Run On A Diet Of Money: We Analyze The Bull's Diet.
Bull markets require two basic ingredients: funds and fear. Fiscal policy is set to increase the already-high level of stimulus, and judging from the financial media near-hysteria about "dangerous inflation", we have enough fear to push the market up the proverbial 'wall-of-worry'.In this piece, we check up on the level of funds flowing into the private sector.
Money is created in two ways: deficit spending by the Treasury, and loan creation by the banking system (bank credit).
The Banks
Banks created another $24B in the latest week. The SPX has a positive correlation with bank credit (chart below).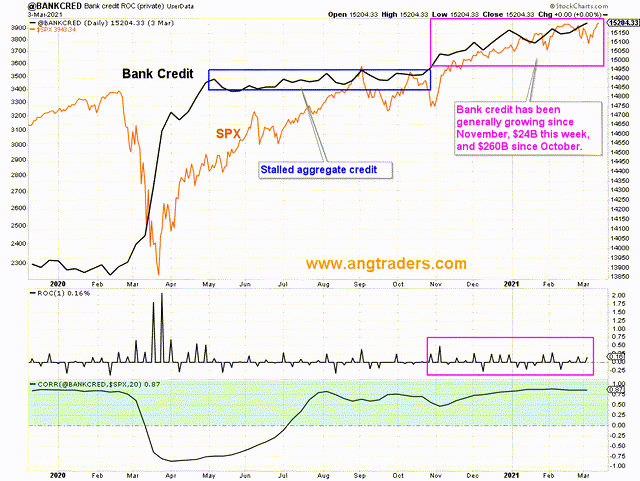 Bank deposits also correlate strongly with the SPX. Deposits continue to grow, and the SPX is growing along with it. With the relief bill already sending checks out this week, deposits will grow further and so will the stock market (chart below).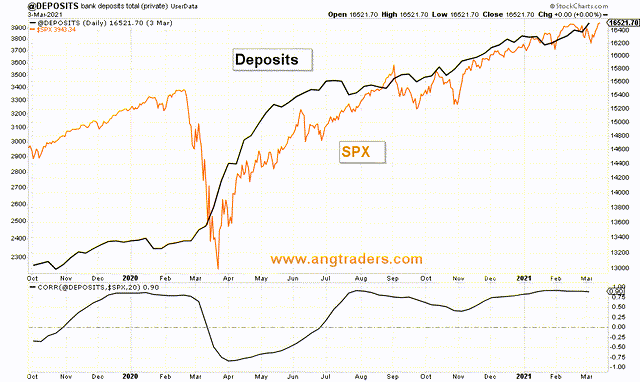 Personal savings will continue to grow thanks to the stimulus. As the opening of the economy accelerates, the savings will be spent and funds will flow to corporate profits. Inflation will be higher, especially at first, but there is enough slack in the economy to supply the new demand and keep inflation at reasonable levels (chart below).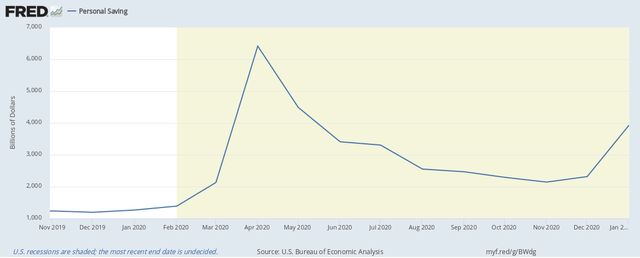 We continue to see historically low capacity utilization. This means shortages that might develop as the economy reopens will be filled quickly and inflation will be held in check (chart below).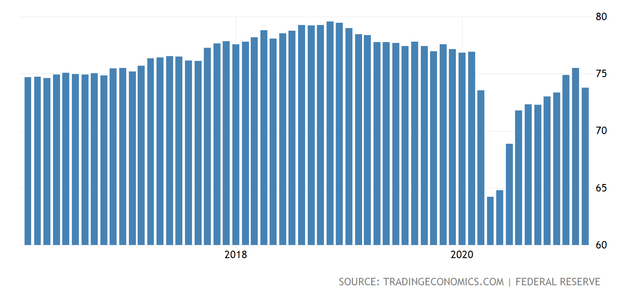 The Fed and the Treasury
The Federal reserve provides liquidity to the private sector by purchasing T-securities and MBS (mortgage-backed securities). This action, known as QE (quantitative easing), causes the SOMA (system open market account) to increase its balance sheet.
The SOMA continues to increase (+$22B this week) and the SPX is following it higher (chart below)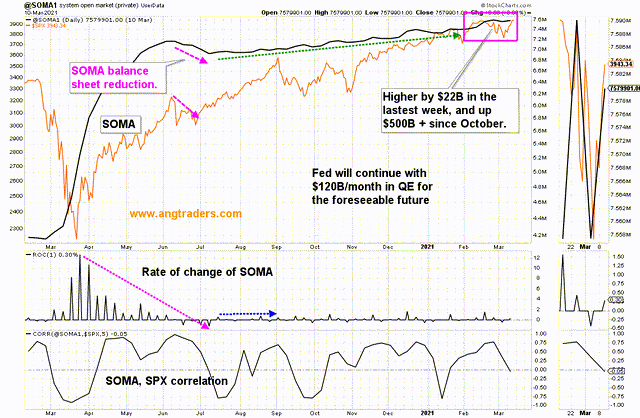 When the Treasury spends more than it taxes back, it creates money for the private sector. The Treasury's daily deficit 20-day MA continues to grow (~$16B/day), and the year-to-date deficit is at a record $1.26T. All of it flowing into the private sector as a surplus (chart below).