Big Opportunities In Value Stocks
The 200-day moving average is one of the most popular trend-following indicators around. The chart below shows the evolution of IWD and its 200-day moving average since May of 2000. From a simple visual inspection, it's easy to see that the indicator has done a solid job in terms of highlighting the main trend in the ETF over the long term.
(Click on image to enlarge)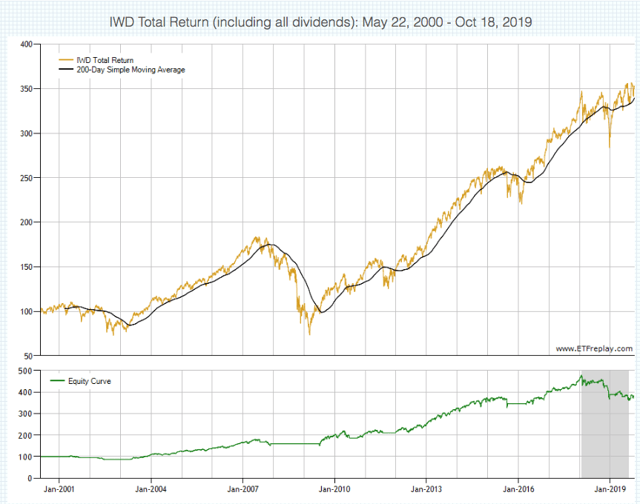 Source: ETF Replay
The numbers show the backtested performance statistics of a simple quantitative strategy that buys IWD when the ETF is above the 200-day moving average, and it moves to cash when IWD is below such a trend indicator.
The trend-following quantitative strategy outperforms a buy and hold position on IWD by a considerable margin. The strategy gained 283.5% versus 232% for a buy and hold position over the period under analysis.
Much more important, the strategy is very effective at reducing downside risk. The maximum drawdown - meaning maximum capital loss from the peak - is 24.7% for the quantitative strategy versus a much larger drawdown of 60.1% for buy and hold investors in IWD.
(Click on image to enlarge)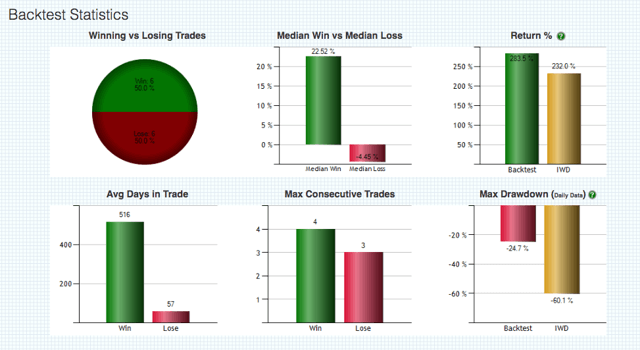 Source: ETF Replay
It may sound counterintuitive to approach value investing from a trend-following perspective. However, the numbers show that it makes a lot of sense to look at price trends in the value sector in order to optimize performance and reduce portfolio risk.
Since June of 2019, the iShares Russell 1000 Value ETF is in an uptrend as defined by the 200-day moving average, and this makes the timing for a position in value stocks more compelling.
Big Value In International Markets
Over the past decade, international markets have underperformed the US stock market by a wide margin. Emerging markets have been particularly affected, and the iShares MSCI Emerging Markets (EEM) ETF has been practically flat over ten years, while the SPDR S&P 500 (SPY) ETF gained more than 177% in the same period.
(Click on image to enlarge)
Disclosure: I am/we are long DGS, GVAL.
Disclaimer: I wrote this article myself, and it expresses my own opinions. I am not receiving compensation for it. I have no business relationship ...
more