Big Opportunities In Value Stocks
Value investing is one of the most renowned investment strategies, and for good reasons. The historical evidence shows that value stocks tend to produce superior returns over long periods of time, meaning multiple decades.
However, even the best investment strategies can go through long periods of underperformance, and this has been the case for value in the past ten years.
But past underperformance can many times create opportunities going forward. At current prices, value stocks are notoriously attractive, especially in international markets.
Recent Underperformance And Future Potential
The chart below, from a research paper by AQR, shows the performance of a value strategy both in cumulative terms (blue line) and over 10 year periods (red line)
(Click on image to enlarge)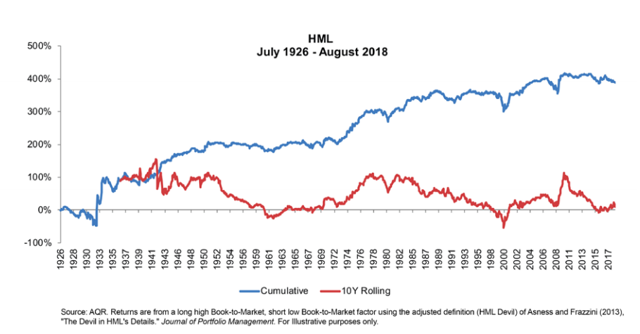 Source: AQR
This particular strategy is based on the price to book value ratio, which I personally consider to be the worst value indicator you can use. Book value does not reflect the economic value of a business in times when intellectual properties, technology, and brand presence are game-changing variables for many businesses. But that's beyond the point.
Value has experienced decades of underperformance before, and it still has produced market-beating returns over longer periods. In fact, we could say that investing in value stocks after a decade of underperformance for value has been a good idea in the past.
In fact, the main reason why value investing works over the long term is because it does not work all the time. If value stocks always outperformed the market year after year, then everybody would buy value stocks, and these kinds of stocks would get too expensive. You need periods of underperformance so that value stocks can remain cheap enough to reward investors with superior returns over the long term.
Is Value Making A Comeback?
The iShares Russell 1000 Value ETF (IWD) is one of the biggest value-focused ETFs around, and it has a long track record in existence. This makes IWD an interesting vehicle to backtest different risk management strategies based on trend following.
Disclosure: I am/we are long DGS, GVAL.
Disclaimer: I wrote this article myself, and it expresses my own opinions. I am not receiving compensation for it. I have no business relationship ...
more