Another Source Of Alpha Kicks In
Another Source Of Alpha Kicks In
Since June of 2017, we've been posting Portfolio Armor's top ten names each week and tracking their performance in real-time. So far, we have full 6-month performance data for 135 cohorts, and they've outperformed SPY by 0.54% annualized so far. In an article published in February, I wrote about another possible source of alpha, names that appear on my system's "cash substitute" list:
As part of our portfolio construction process, we start with equal dollar amounts of underlying securities drawn from the top names ranking, and then, to reduce hedging costs, we round down those dollar amounts to round lots (numbers of securities divisible by 100; we use round lots to reduce hedging costs). In a fine-tuning step, we then seek to minimize that leftover cash by replacing it with names from our "cash substitutes" list. These are securities that have the most negative hedging costs when hedged with an optimal, or least-expensive collar capped at the current money market rate.
A Slow Start
I mentioned in that February article that we had started tracking the unhedged performance of our top cash substitute names at the end of August 2019. They got off to a slow start, as you can see below, with the 6-month performance of the first cohort.
(Click on image to enlarge)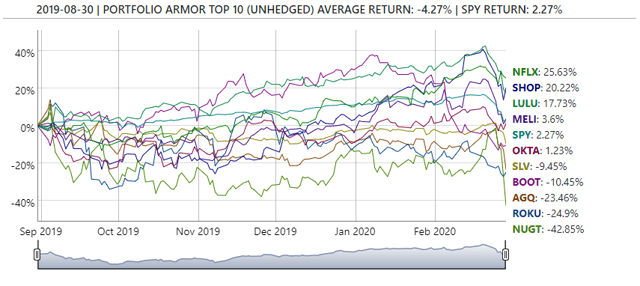 The worst performer there was Direxion Daily Gold Miners Bull 3x Shares ETF (NUGT). One thing about this screen is that it picks up leveraged ETFs (including inverse ones) occasionally. I could have put my thumb on the scale and eliminated them from the screen, but I let it ride, as I'd seen examples in the past of leveraged and inverse leveraged ETFs generate solid performance over 6-month time periods.
Performance Picks Up
As it happened, the inclusion of inverse leveraged ETFs boosted the performance of some cash substitute cohorts that finished their 6-month time frames during the Coronavirus Crash earlier this year. One example was this cohort created on October 16th, which wrapped up within about a week of the March 23rd market nadir.