An Honest Look At Gold's Chartolgy - Part 1
As you well know the PM complex has been trading at a very important inflection point for the last month or so looking for the next important move either up or down. I can make a case today for either direction but the Chartology is strongly suggesting the next important move is going to be to the downside. In the very short term, days to maybe a week or so we could see some backtesting to many important necklines that have already given way.
Let,s start with a few important moving averages that in the past gave us our first warning that things could start to get a little rough. These aren't big deals in and of themselves but they do throw up a little red flag that says, pay attention.
During the bull market years I used a ribbon of 4 different moving averages that when they became all properly aligned to the upside they told us that gold was very strong. The 300 day sma was the most important moving average for the long term health of gold (GLD). Throughout the bull market that began in 2000 until the high in 2011 the only time the 300 day sma was violated was during the 2008 crash.
Up until last week the ribbon of 4 moving averages had gotten proper aligned just before the H&S bottom neckline was broken to the upside in 2019. As you can see the 300 day sma held support in the spring of 2020 and saved the day for gold. Again, it is not the end of the world but Gold has now traded below its 300 day sma for 7 days in a row now which is allowing the shorter term green 50 day sma to start rolling over along with the red 150 day sma. In a strong bull market it is never a good thing to see these important moving averages rollover especially the longer term moving averages.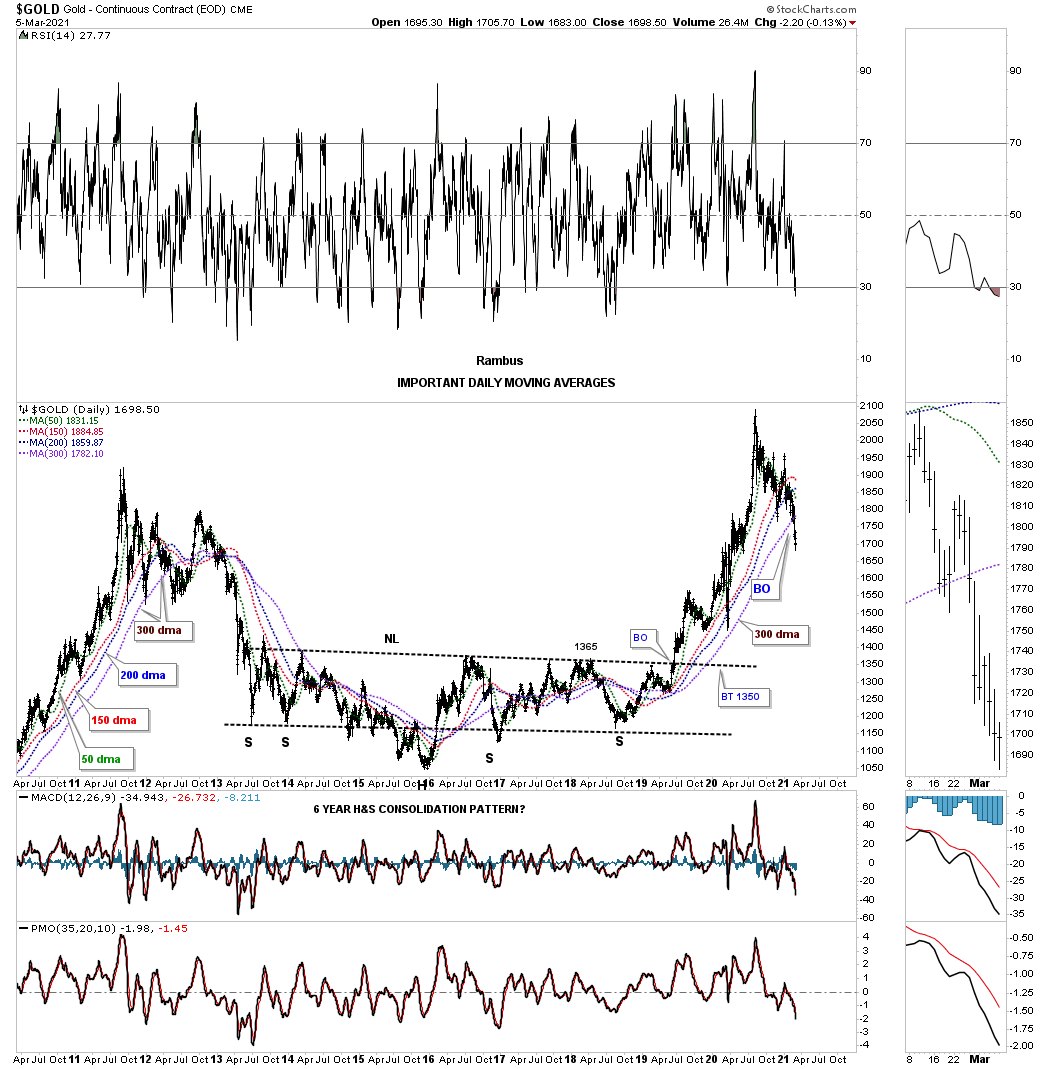 Below is a weekly chart for gold which shows just the 10 and 50 week moving averages without the price of gold. Normally when these 2 moving averages become properly aligned they can keep a buy signal going for years at a time. Normally when you see these two moving averages start crossing back and forth it tells you gold is either building out a reversal pattern or a consolidation pattern. The last buy signal was given back in January of 2019, last green circle. Last week the 10 week closed below the 50 week giving its first sell signal in a little over 2 years, red circle.