Among Speculative Plays I Like JETS
There have been a lot of speculative sectors and companies in the "day-trading revolution" of the past 1-2 months as embodied by Barstool Sports founder Dave Portnoy. Many of these companies are in extremely at-risk situations and carry a non-negligible chance of bankruptcy reorganization or, in some cases, already have declared and still remain in the market spotlight such as Hertz.
Yet one sector which I believe has just enough reduced risk of long-term/permanent debilitation and is still at a price-level where it is a worthwhile risk-reward value play is the airline sector and particularly as represented by the U.S. Global "JETS" ETF.
Airlines already are seeing a massive resurgence in demand as the industry has adapted with a variety of precautions to the COVID-19 pandemic and the most restrictive prohibitions on travel have been or are being lifted. JETS, as a well-diversified representation of the broader airlines sector and still down immensely year-to-date, seems poised to continue its resurgence while avoiding black swan bankruptcy risks that remain present, yet unclear, for numerous companies deeply affected by the pandemic.
As World Re-Opens Air Travel Is Coming Back
April, as priced in by the JETS ETF in March, was a horrendous month for air travel as passengers were down roughly 96% year-on-year.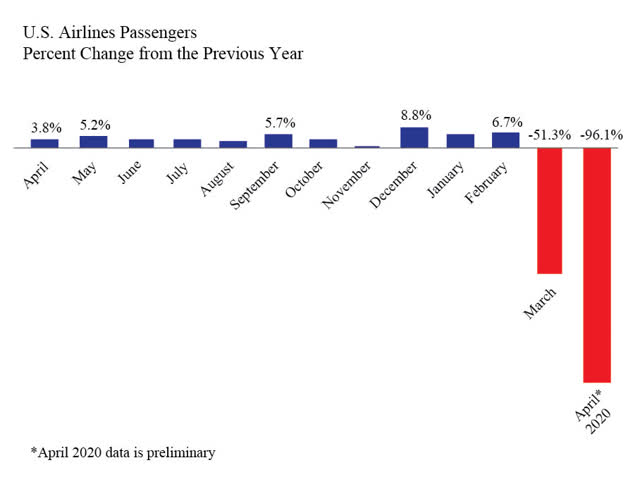 (Source: U.S. Bureau of Transportation Statistics)
However, since then, we've seen airlines begun to see what looks like a permanent revival. Airlines now have implemented health protocols, including questionnaires, screenings, social distancing, and more, that allow them to be in compliance with government regulations to protect against COVID-19 as well as gain the trust and confidence of customers again. The nearly total decline in international travel in March/April as countries closed off flights from one another is now easing as slowly countries begin to build international pathways once again to countries they deem low-risk for the pandemic.
Disclosure: Long JETS.
Disclaimer: These are only my opinions and do not constitute investment advice.