Above The 40 – An Unenthusiastic Rebound For The Stock Market From Stretched Conditions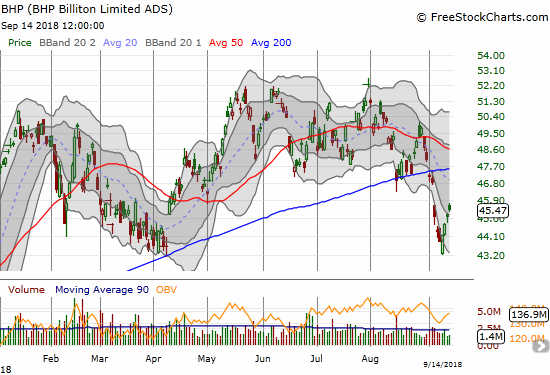 BHP Billiton (BHP) bounced sharply from its recent low which successfully tested the 2018 low set in April.
Rio Tinto
RIO found a bottom with much less drama than BHP. I bought put options before the BHP call options. If RIO does not attract more interest soon, I anticipate new lows in due time.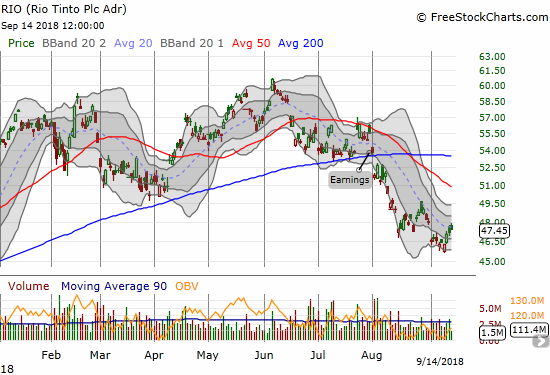 Rio Tinto (RIO) bounced off a 13-month low.
Freeport-McMoran
Declining copper prices compounded FCX's operational issues this year. The downtrend off January's high accelerated off July's temporary high. Like many commodity plays, buyers rushed into FCX at the intraday lows on Tuesday, September 11. The buying was strong enough to create a long hammer bottoming pattern. The following rebound so far has found stiff resistance at the downtrending 20DMA.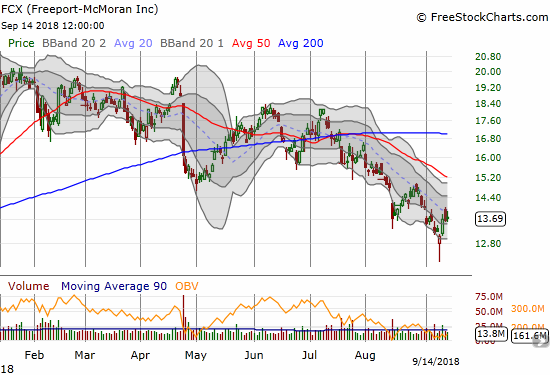 Freeport-McMoran (FCX) created a long hammer bottom at a 14-month low. The 20DMA downtrend is still in effect however.
U.S. Steel
U.S. Steel (X) is still not benefiting from the tariffs on steel (or perhaps it would have performed even worse than it is?). Last week, X gapped down to a new 10-month low.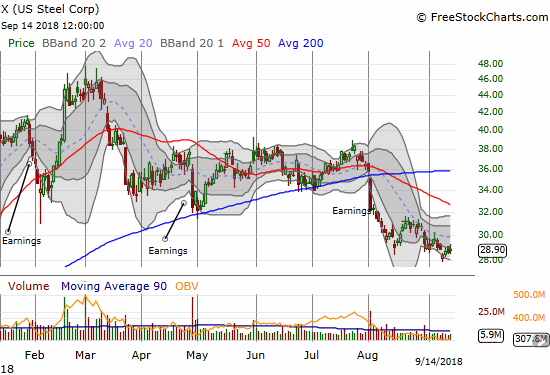 U.S. Steel (X) is struggling at 10-month lows as it continues to confirm August's major 200DMA breakdown.
Cleveland-Cliffs
While tariffs are not helping the stocks of steel producers like U.S. Steel, makers of the iron ore used by domestic steel producers seem to be grabbing the lions share of the benefit. I missed out on CLF's great bounce off 50DMA support. I did not want to buy CLF without first reviewing the last earnings report. I simply never got around to doing that review.
Cleveland-Cliffs supports the steel tariffs through efforts like Keep America Steel Strong.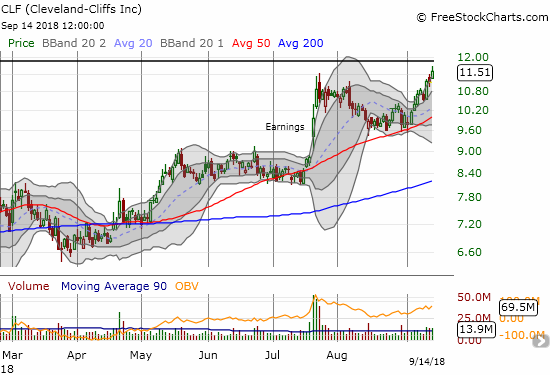 Cleveland-Cliffs (CLF) found firm support at its 50DMA and bounced back toward resistance at its 2009 intraday low.
Camping World Holdings
I first covered CWH back in June. I did not buy because (CWH) stock gained 25% in just three days and stopped cold at 50DMA resistance. I decided not to buy the 50DMA breakout or even the subsequent test of the 50DMA as support: persistent weakness in sector-mates Winnebago Industries (WGO) and Thor Industries (THO) made me wary and stayed my hand. Sure enough, the excitement over CWH faded away as a second test of 50DMA support gave way to a breakdown. CWH reported earnings on August 7th and the market responded by retesting the May and all-time low. While buyers almost closed the gap down in the next 6 trading days, the stock faded all over again for another test of the all-time lows. So despite the great things CWH's CEO had to say in June, I consider this stock and story broken all over again.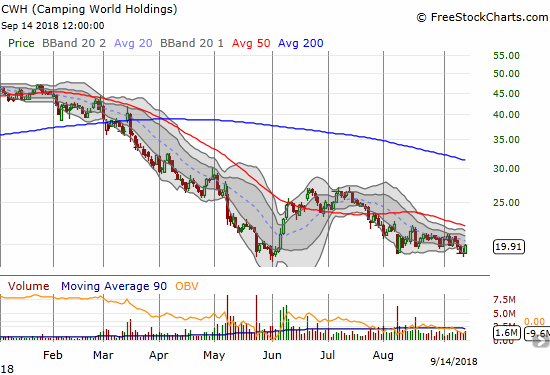 Camping World Holdings (CWH) slowly eroded most of its sharp gains from June. The 20DMA is now providing effective resistance.
Facebook
Facebook (FB) bumped against stiff resistance at its downtrending 20DMA and dropped nearly straight down. Now the stock's lower-BB is guiding the stock downward. I turned the crank on another short position this week. I have not been bearish enough on FB's chart. A test of the March and 2018 low is in play.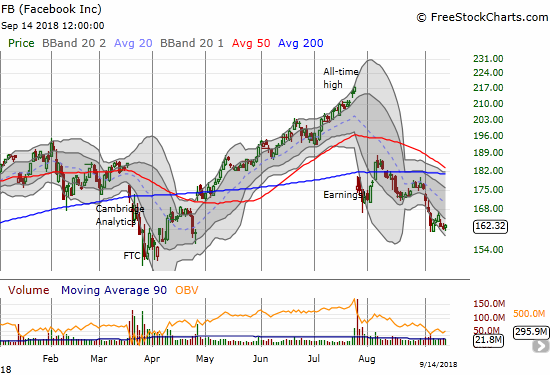 Facebook (FB) set new post-earnings lows as its lower Bollinger Band (BB) channel guides the stock downward.
Goldman Sachs
GS is weak again and below its 50DMA. Last month, the 200DMA provided picture-perfect resistance. I failed to catch that trade. I am now watching to see whether GS can hold support from August's 50DMA breakdown and low. If not, I will try a fresh short (put options). I am as yet undecided on whether I would go long on a new 50DMA breakout. Regardless, weakness in GS is just one more source of sector weakness that keeps me wary and cautious about the health of the stock market.
Disclosure:Full disclosure: long BHP calls, long RIO puts, long UVXY calls, short FB, long INTC calls, long MU shares and calls, long SNAP
Related links: