3 ETFs To Play For Microsoft's Earnings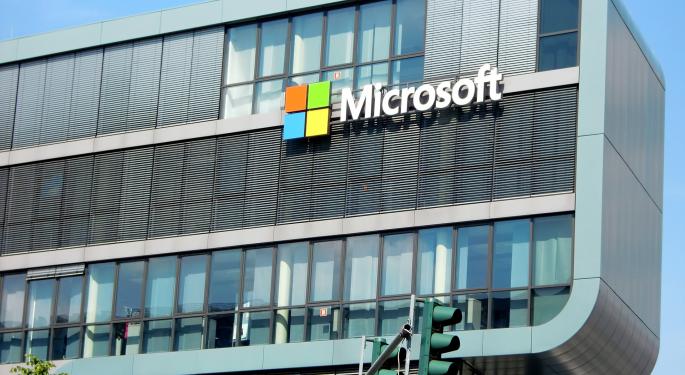 Microsft Corporation MSFT reports fiscal fourth-quarter results after the close of U.S. markets today, a noteworthy event because, among other reasons, the company is the second-largest in the U.S. by market capitalization, trailing only Apple Inc. AAPL.
Analysts expect Microsoft to report earnings per share of $1.37 on sales of $36.5 billion. The company previously guided for revenue of between $35.85 billion to $36.80 billion.
Among the marquee things, analysts and investors will be monitoring are growth in the Azure cloud business, benefit assigned to Xbox on the back of gamers gaming more amid shelter-in-place orders, and how Office and related Teams and SharePoint are performing as more folks work from home.
Microsoft earnings are also significant in the world of exchange-traded funds because 300 ETFs feature exposure to the stock. Here are three that could be in the spotlight on the back of the looming earnings update.
Technology Select Sector SPDR
The Technology Select Sector SPDR XLK is an excellent way to play mega-cap tech earnings — specifically reports from Microsoft and Apple — because the fund devotes over 43% of its weight to those two tech titans.
Alone, Microsoft commands 21.72% of XLK's weight. Said another way, the fund's third- through eighth-largest holdings would have to be combined to exceed the weight assigned to Microsoft. Indeed, the big allocations to Microsoft and Apple are meaningful because XLK is up 18.32% year to date.
iShares U.S. Technology ETF
Like the aforementioned XLK, the iShares U.S. Technology ETF IYW features Microsoft and Apple as its top two holdings and for some size as that pair combines for 38% of the fund's weight.
However, that's not the only reason why IYW delivers returns that vary wildly from XLK. The Dow Jones U.S. Technology Capped Index — IYW's index — still classifies Facebook FB and Alphabet GOOG as technology stocks whereas, but officially those names reside in the communication services sector.
© 2020 Benzinga.com. Benzinga does not provide investment advice. All rights reserved.