Year In Review: 10 Clean Energy Stocks For 2020
Looking Back
At the end of 2019, I was worried about overvaluation.
I wrote that my main goal for the 10 Clean Energy Stocks for 2020 list was "to find stocks which will be resilient in the event of a US bear market." We certainly had a bear market in 2020, although it was nothing like the kind of bear market I had been anticipating. The bear market was precipitated by the coronavirus pandemic, rather than overvaluation.
While I can claim to have anticipated the 2020 bear market, if not its nature, I was surprised by two other market events driving stock prices. One was the sudden reversal of the bear market, which led to gains in most indices for the year. The second was the rapid growth of the fossil fuel divestment movement, leading to rising interest in clean energy stocks.
Both of these surprises helped pull the 10 Clean Energy Stocks model portfolio to a 7.8 percent total return for the year, but my defensive posture at the start of the year, my failure to anticipate the nature of the bear market, and my policy of trying to minimize trading meant that the model portfolio did not see as much upside as my clean energy income stock benchmark, the Yieldco ETF (YLCO), or the real money strategy I manage, the Green Global Equity Income Portfolio (GGEIP). These were up 29.7 percent and 28.1 percent, respectively.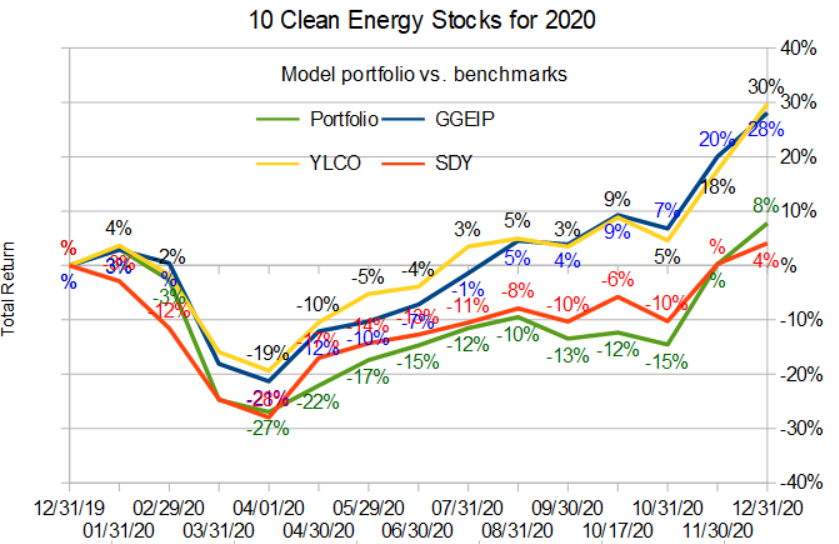 My broad market income stock benchmark did not see any benefit from the new interest in clean energy stocks, so ended the year up only 4.1 percent.
Looking Forward
With valuations even higher than they were at the start of 2020, and the economy in a continued pandemic tailspin, I would not be surprised if another bear market were to start in 2021. I don't think the stock market has ever seen back-to-back bear markets like this, but one vocabulary lesson of 2020 was that "unprecedented" and "unlikely" can mean radically different things.
Disclosure: Long positions all the stocks in the model portfolio.
Disclaimer: Past performance is not a guarantee or a reliable indicator of future ...
more