The State Of The US Solar Industry: 5 Questions Answered

Why are most of the solar panels that are installed in the United States manufactured overseas? Is this pattern likely to change?
About 80 percent of solar panels installed in the United States last year were built overseas. While the industry was invented here, China has poured up to $47 billion into tax breaks and incentives in order to develop what it views as a strategic capability. Along with an abundant supply of cheap skilled labor, these investments reduced the price of solar panels by 80 percent between 2008 and 2013.
Some foreign solar panel manufacturers are negotiating to open factories in the United States, much as foreign car manufacturers did during the Reagan administration. However, any new manufacturing is likely to be highly automated, so it might not generate major numbers of new jobs.
Which sectors and states produce the most solar power today?
About 60 percent of total U.S. solar generating capacity is in a relatively small number of very big projects owned by power companies. The rest is what's known as distributed capacity, meaning small-scale projects that generate energy at many sites. It includes rooftop solar power on homes, community solar projects and commercial installations, such as solar panels on the roofs of big-box stores like Walmart.
California has nearly half of all U.S. solar electricity generating capacity, followed by Arizona, New Jersey and North Carolina. Alaska, North Dakota and South Dakota are the only states with less than one megawatt of small-scale solar photovoltaic capacity.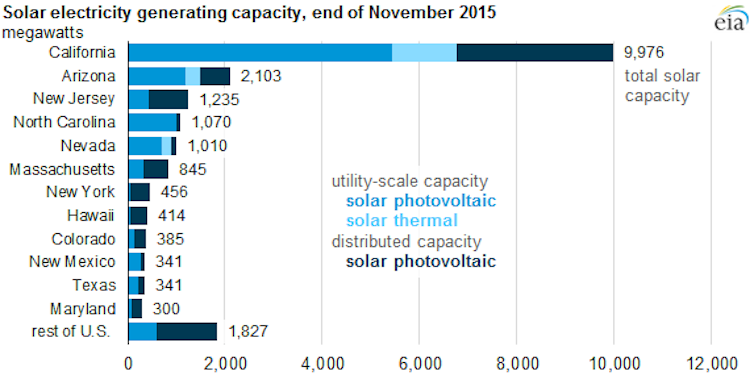 How affordable is solar power for customers who aren't affluent?
Affordability can be a barrier to going solar, but there are ways to reduce it. For example, some utility customers can subscribe to community solar programs – projects that serve multiple customers in a single area – and even reduce their rates by doing so. Community solar projects do not usually require customers to own their homes, so renters can take part.