The 5 Best Renewable Energy Stocks To Buy Now
Bloomberg's New Energy Outlook (NEO) says clean energy investments will be worth $10 trillion by 2050. In fact, both wind and solar energy costs are now lower than coal costs in the United States. That's giving one of the best renewable energy stocks to buy now a major catalyst to push share prices even higher.
You see, as technology advances, renewable energy gets even better. And cheaper. For example, we now have more efficient batteries with greater power storage which will only continue to advance and make renewable energy even more useful.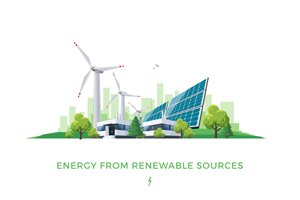 That's exactly why we're bullish on some of the best renewable energy stocks to buy now. Especially right before they completely skyrocket.
The renewable energy sector is a bull market in the making.
Because of this, we're giving you five renewable energy stocks to buy now to benefit from clean energy's insane growth potential.

Why Should You Invest in Clean Energy?
One of the renewable energy stocks we've talked about before is NextEra Energy Inc. (NYSE: NEE). According to a study by NextEra, we could have 50% renewable electricity within 11 years.
NextEra will be a major player making that happen.
That's because NextEra has been a massive name in the electrical industry since 1925, with over 5 million customers.
In fact, it's become the biggest wind and solar energy generator in the world. And the S&P Global Ratings gives NextEra a best-in-class rank for the firm's environmental, social, and governance evaluation.
So, once renewable energy stocks really take off, NextEra stands to be one of the top contenders on the market.
And it's just a matter of time until it is. According to Bloomberg's New Energy Outlook, wind, solar, and battery investments are going to be worth $10 trillion by 2050.
Plus, NEO also revealed that for over two-thirds of the world, wind and solar have become the cheapest energy options of additional power. That's on top of the fact that they say coal's contribution to global energy will drop from 37% to just 12% by 2050 as well.
NEE vslr jks run sedg
Disclosure: None.