Yellen's LaLa Land Prediction Of Full Employment
While the trend of automating jobs is moving along full speed U.S. Treasury Secretary, Janet Yellen recently said that the U.S. could achieve full employment recovery if President Joe Biden's COVID-19 stimulus package is passed. "I would expect that if this package is passed, we would get back to full employment next year," Yellen told host Jake Tapper on CNN's State of the Union. This is a clear signal Biden's need to urgently pass a COVID-19 relief package is being ramped higher.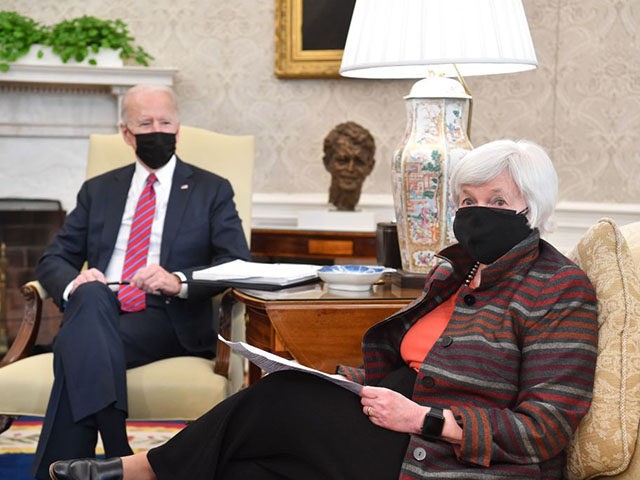 Yellen said, "We will get people back to work much sooner with this package." She went on to claim, "There's absolutely no reason we should suffer through a long slow recovery." According to the Treasury Secretary, the President's $1.9 trillion COVID-19 relief package could help the U.S. employment numbers recover at a faster pace. Yellen cited a report from the Congressional Budget Office (CBO), which found that the unemployment rate would reach pre-pandemic levels in 2025 without the level stimulus proposed in Biden's American Rescue Plan.
Some economists have voiced fear this relief plan will spur inflation. Even former Treasury Secretary Larry Summers has raised concern Biden's package would "flood the economy" and lead to high inflation. Yellen, however, as the former Federal Reserve chair brushed aside this issue saying she spent many years "worrying" about inflation and, "I can tell you we have the tools to deal with that risk" if it were to occur. Yellen pointed to the huge economic challenge and tremendous suffering facing the country, then indicated, "That's the biggest risk." Yellen's words indicate we have clearly entered the area of "Destructive Recursion," a term coined to refer to a system that keeps feeding power back into itself and is controlled by those who are destroying it.
Disclaimer: Please do your own due diligence before buying or selling any securities mentioned in this article. We do not warrant the completeness or accuracy of the content or data provided in ...
more