Wiping Out $1 Trillion In Student Debt Could Soon Be Government Policy
In recent years there have remained fewer of the well-paying jobs new graduates could in better times more easily find.
Long gone is the boomer generation trend of get a degree = secure a good job right out of college. Bloomberg reviews: "For years now, delinquencies and defaults on student debt have been running much higher than for those on other types of loans. That's in large part because, even amid the longest expansion in U.S. history, the economy hasn't been creating enough of the well-paid jobs that all these graduates had counted on. High dropout rates, especially at for-profit colleges, are also a factor. In 2019 only about 40% of borrowers were current on their payments."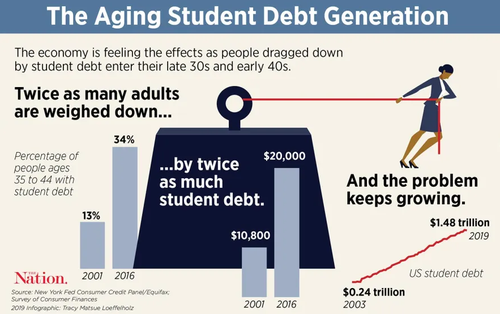 Likely Options & Non-solutions
Bloomberg continues: "Biden could just renew the payment freeze. President Trump did that by executive order in August, so it won't trigger a dispute over presidential powers. But if Biden tries to use the same instrument to cancel student debt, bypassing a Congress where he may not have a Senate majority, some analysts foresee legal challenges." Of course, progressives are pushing for much more, including the at least $50,000 of individual forgiveness pushed in the Schumer-Warren plan.
It still won't help those hit hardest by the pandemic, for example in the service industry, but is likely to instead do the opposite: "Critics say debt forgiveness helps college graduates at a time when low-paid service workers, mostly without degrees, have been hit hardest by the pandemic," Bloomberg notes.
"It would sow more division in a country where education levels are one of the clearest fault lines. And they say it's unfair to student borrowers who paid what they owed."
Asked about his plan for student loan debt, Biden promises:

• Immediate $10,000 forgiveness on federal loans
• Public colleges tuition-free for students whose family income is less than $125,000
• Lessen Public Service Loan Forgiveness requirement pic.twitter.com/7e94mJrpxh

— The Recount (@therecount) November 16, 2020
Disclaimer: Copyright ©2009-2021 ZeroHedge.com/ABC Media, LTD; All Rights Reserved. Zero Hedge is intended for Mature Audiences. Familiarize yourself with our legal and use policies every ...
more