Will Easy Financial Conditions Reverse?
The Fed's plans for low rates and QE will be questioned by the market once the vaccine goes out and the labor market recovers. Even though the unemployment rate has become more normal, there are millions of displaced workers in the COVID-19 economy. When those people get jobs again, the market will immediately look to the Fed to make plans to end its QE program and provide updated guidance on when it will raise rates for the first time. The market determines Fed policy more than some think. The Fed is only allowed to raise rates when the market says it can. The best way the Fed combats this is though forward guidance. It wouldn't have a chance versus the market if it only set policy though actions.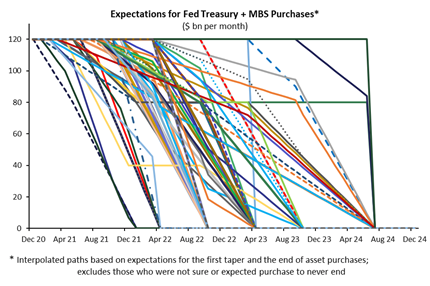 As you can see from the chart above, there are varying views on how QE will be unwound. The Fed won't give guidance on ending QE and raising rates in the near term until the pandemic is over. The Fed looks at actual economic data. Much like oil prices, actual economic performance can't jump ahead of reality. In other words, oil prices can't spike until demand actually comes from an improving economy next year.
Hotels and restaurants can't go on a major hiring spree until demand comes back. The Fed can't even talk about ending its recessionary policies until the economy regains its form. 62% of small businesses stated in early November that the worst is yet to come with COVID-19's economic impact. Markets love to price in the future when uncertainty wanes. If investors knew a vaccine would come by early 2021 back in March 2020, there wouldn't have been as big of a crash.
Very Easy Conditions
Despite the recession and pandemic killing 300,000 Americans, this has been a good year for stocks. In fact, the S&P 500 has had the most days where it has gained 1% or more this year (64 times) since at least 1950. None of the tech bubble years had this many solid winning days. That's in part because of help from the Fed. The other bullish aspects are the understanding that this virus will pass and that growth software names have done well in this environment. The composition of the index is critical. If we had a recession that only benefited energy stocks, the index would crash.
Disclaimer: The content on this site is for general informational and entertainment purposes only and should not be construed as financial advice. You agree that any decision you make will be ...
more