Why Trump Deal With China Is Good For Free Trade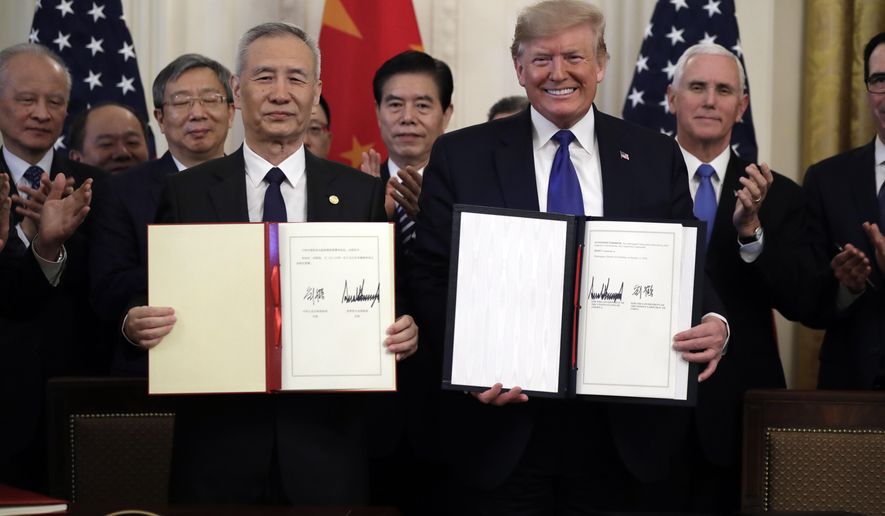 FILE - In this Wednesday, Jan. 15, 2020, file photo, U.S. President Donald Trump, right, signs a trade agreement with Chinese Vice Premier Liu He, in the East Room of the White House, in Washington
President Trump's Phase One trade deal may save the World Trade Organization from breakdown and takes international commerce to a better place in a world divided between democratic market and autocratic state-directed economies.
Free trade is a simple but compelling idea — at least at universities, where students are taught David Ricardo's example of England and Portugal exchanging wine and cloth.
American export industries are more R&D-intensive and at least 10 percent more productive than import-competing industries. The United States exporting $2.5 trillion and importing a like amount would raise GDP by some $275 billion — if trade were balanced and workers displaced by imports found other work.
Also, bigger sales for U.S. technology-intensive activities finances more American R&D, product innovation and faster labor productivity growth — economists call these the dynamic gains from trade.
The WTO was set up by market-oriented Western economies to systematically reduce tariffs and other barriers to trade to encourage such benefits for all participating nations.
As tariffs came down, the world body increasingly focused on other policies that favor domestic goods and services over imports. For example, the inclination of government agencies to give preferences to local businesses in procurement, subsidies like those auto companies receive to build factories, and taxes like France's and Italy's levy on U.S. big-tech companies, which could advantage EU startups looking to horn in on Facebook, Amazon, Alphabet, Google and Netflix — as well as legacy techs like Microsoft.
When does a deal for Amazon to locate HQ2 in Arlington, Virginia, only affect domestic competition and when does it truly inhibit international commerce is hardly clear cut like the demonstrations of the lost economic gains from trade imposed by tariffs in Econ 101. Consequently, the major market economies established within the WTO a dispute settlement mechanism to arbitrate claims.
Peter Morici is an economist and professor at the Smith School of Business, University of Maryland, and widely published columnist. He is the five time winner of the MarketWatch best forecaster ...
more