Why Friday Could See A Huge Move In Treasuries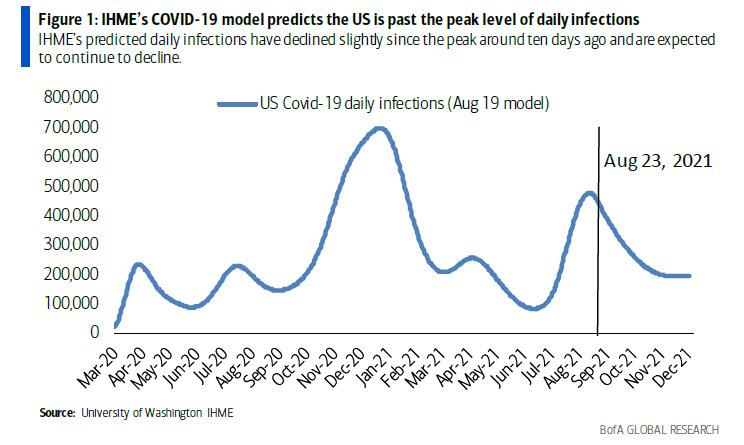 ... with new hospitalization- and case growth- trajectories turning lower in the US, and following the timeline of UK / Scottish cases rolling-over a month ago, while at the same time new Chinese cases having cratered, (on Wednesday the Meishan terminal at China's second busiest port reopened following a two week shutdown).
As a result, while Powell may take the cautious approach, and avoid explicit taper mentions on Friday, Nomura believes that the market is already focusing on this cheerful "forward looking" view heading into the Fall / Q4's bullish "risk-on" seasonality, plus supply pick-up, perception of taper and delta roll-over is the basis of renewed interest in "running-back" cyclical value/reflation/reopening trades from investors into the months ahead (WTI oil has soared 10% from Monday lows, 10Y TSY Yields are +9bps from last Thursday), and as McElligott notes, if we were to see an even bigger "dovish surprise" from Powell on Friday "any richening in USTs thereafter would likely see some discretionary folks take another "tactical shot" from the short-side in USTs."
In fact, one look at today's 10Y yield shows that some are not waiting and are already taking the tactical shot.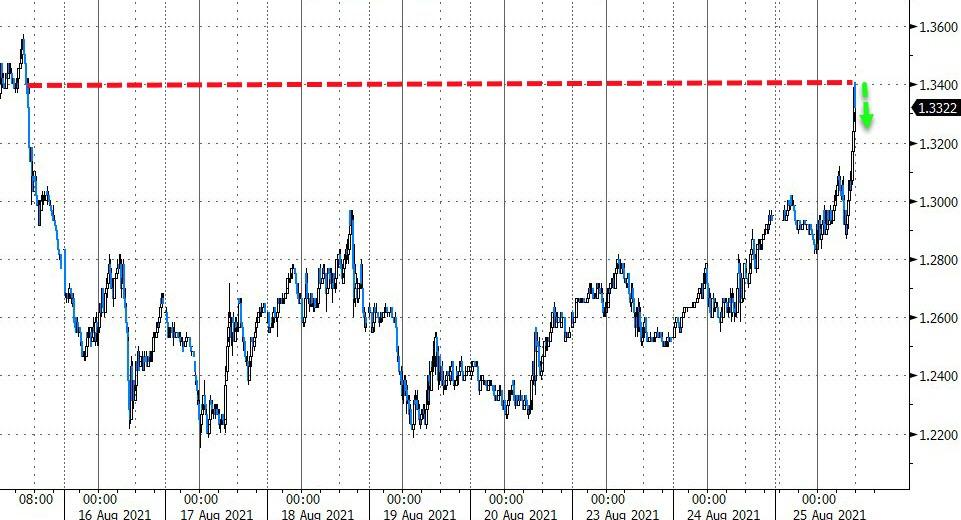 So going back to the market's complacency, and lack of expect moves on Friday, McElligott warns that if there were any surprises, the moves would of course spill over well into next week's trade, so owning 9/3 expiration for hedges is a better idea (or 9/10 exp EDU4 midcurve).
But the punchline - particularly in the context of this bizarre lack of hedging - is another key dynamic highlighted by McElligott, which is at play, namely that there is enormous amount of TY optionality rolling-off at this Friday's expiration, with 63% of TY option OI expiring and indicating potential for a "Gamma unclench" (the Nomura strategist brings attention to just a 1.55 Put/Call Ratio in TY which is multi-month lows alongside TY Skew, as traders pivoted to "slowdown" in recent weeks.
Disclosure: Copyright ©2009-2021 ZeroHedge.com/ABC Media, LTD; All Rights Reserved. Zero Hedge is intended for Mature Audiences. Familiarize yourself with our legal and use policies ...
more