What Happens When The Fed Stops Hiking
As we explained last weekend, it's not the Fed tightening - and curve flattening - that is the recession catalyst: it is when the Fed begins cutting rates, sending the yield curve sharply higher. That is what one should be worried about as all three prior recessions followed within 3 months of the first rate cut after a hiking cycle: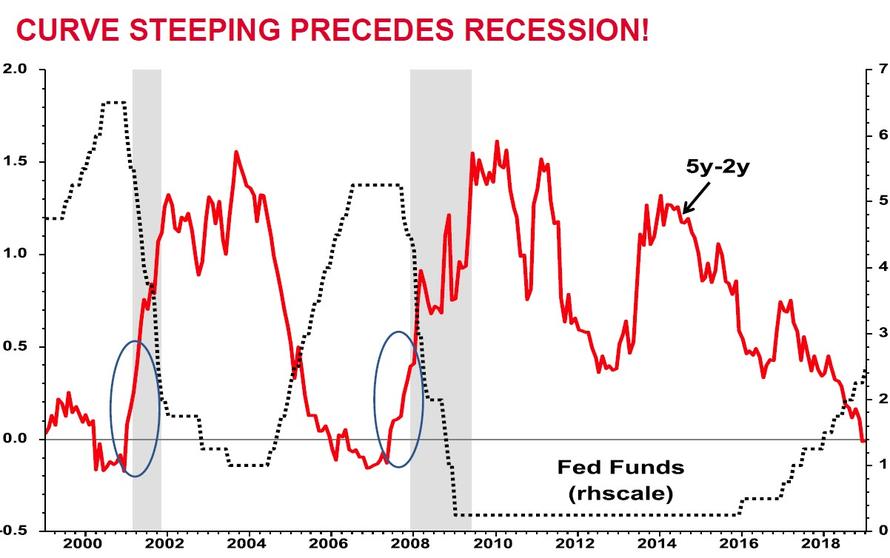 This is a critical distinction at a time when the Fed is contemplating not only ending its rate hike cycle - and thus curve flattening impulse - but potentially cutting rates, at least if it agrees with the market, so soon as late 2019, which in turn would prompt a sharp spike in the yield curve and, as we argued in our post explaining why the Fed is trapped, catalyze the next recession.
To be sure, nothing is set in stone, and as Goldman strategist Ian Wright writes, much focus remains on the state of US growth, the ongoing US-China trader war, the US government shutdown, and Brexit, each of which could tip the Fed's hand. And yet, amid this uncertain backdrop, recent weeks have been good for risky assets. Oil has risen sharply, with GSCI Energy now up 16% on the year. Credit has also rallied - especially on a risk-adjusted basis - and undone almost all of its December spread widening, in both IG and HY, and USD and EUR markets. Last but not least, the S&P 500 is up 14% since the Steve Mnuchin called the Plunge Protection team on December 24 (and since the government shutdown).
Sarcasm aside, the recent risk was largely the result of Powell's abrupt dovish reversal and has been supported by the abatementof concerns about central banks hiking rates. In the past month, markets have priced both the Fed and ECB more dovishly in the coming year, with no hikes priced for the Fed in 2019 and a first ECB hike priced only in 2020 (notably, 10-year yields have risen amid the recent risk-on, as the correlation between stocks and bonds which recently shocked market watchers when it inverted, appears to be normalizing somewhat).
Disclosure: Copyright ©2009-2018 ZeroHedge.com/ABC Media, LTD; All Rights Reserved. Zero Hedge is intended for Mature Audiences. Familiarize yourself with our legal and use policies every time ...
more