What Could Go Awry?
The Black Death of risk roamed the land unhindered until the all-mighty Federal Reserve established its impregnable fortress of the Fed Put: every market decline will be crushed, and speculators will be rewarded.
And so the glorious age of Speculative Mania began. The rules to guaranteed gain were simple:
1. Buy every dip, as the Fed Put would soon reverse any decline.
2. Borrow as much money as possible and throw it onto the gambling tables because the larger your bets, the greater your gains.
With risk vanquished, everyone who embraced speculation became a winner--a big winner. Only chumps didn't buy GameStop calls and reap a quick $250,000 or more in a few weeks.
And so margin debt soared and speculators prospered. All was right with the world. But then inexplicably, some sort of glitch occurred and the dot-com euphoria popped and stocks actually dropped. Punters received the dreaded margin call for cash or they had to liquidate their positions to reduce their margin debt.
Stocks soon recovered, and easy-to-borrow money flooded into housing and stocks, lifting markets to new euphoric heights. Another inexplicable glitch occurred, however, and that bubble popped, too, with extremely awkward consequences--the Global Financial Meltdown. But after the Fed tossed around a few tens of trillions of dollars in backstops, guarantees, mortgage purchases, bond-buying, lines of credit for any bank that faced losses, and so on, that strange interlude ended, and margin debt and speculative gains continued their march to new heights of glory and guaranteed gains.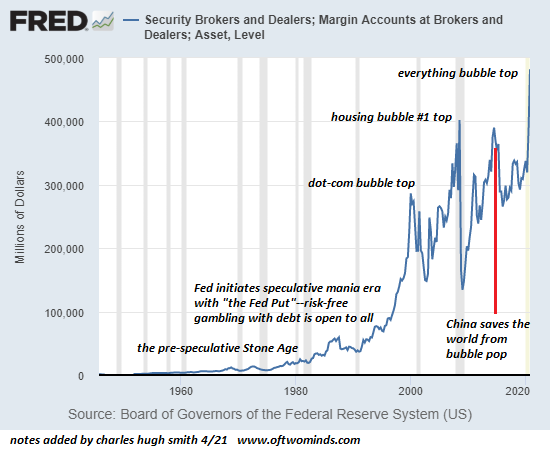 Which brings us to the present unprecedented levels of margin debt and can't lose speculative mania. Everyone is supremely confident that inexplicable glitches are now impossible, and nothing can possibly go awry on the path to new super-cycles of growth and speculative gains.
All of which sounds very pretty indeed, but it does raise a question: can risk really be destroyed, or can it only be transferred? And if it can only be transferred, then what's it been transferred to? The only possible answer appears to be the financial system itself. But never mind skeptical questions, the Fed Put is now the greatest power in the Universe and so speculative gains are guaranteed, forever and ever.