US Recession Watch, December 2020 - Yield Curve Hides Slowing Economy
A Refresher: Why Does the US Yield Curve Matter?
Market participants use yield curves to gauge the relationship between risk and time for debt at various maturities. Yield curves can be constructed using any debt, be it AA-rated corporate bonds, German Bunds, or US Treasuries.
A "normal" yield curve is one in which shorter-term debt instruments have a lower yield than longer-term debt instruments. Why though? Put simply, it's more difficult to predict events the further out into the future you go; investors need to be compensated for this additional risk with higher yields. This relationship produces a positive sloping yield curve.
When looking at a government bond yield curve (like Bunds or Treasuries), various assessments about the state of the economy can be made at any point in time. Are short-end rates rising rapidly? This could mean that the Fed is signaling a rate hike is coming soon. Or, that there are funding concerns for the federal government. Have long-end rates dropped sharply? This could mean that growth expectations are falling. Or, it could mean that sovereign credit risk is receding. Context obviously matters.
US Treasury Yield Curves: 3m10s and 2s10s (1975 to 2020) (Chart 3)

There is an academic basis for yield curve analysis. In 1986, Duke University finance professor Campbell Harvey wrote his dissertation exploring the concept of using the yield curve to forecast recessions. Professor Campbell's research noted that the US yield curve needs to invert in the 3m10s for at least one full quarter (or three months) in order to give a true predictive signal (since the 1960s, a full quarter of inversion has predicted every recession correctly).
NY Fed Recession Probability Indicator (December 14, 2020) (Chart 4)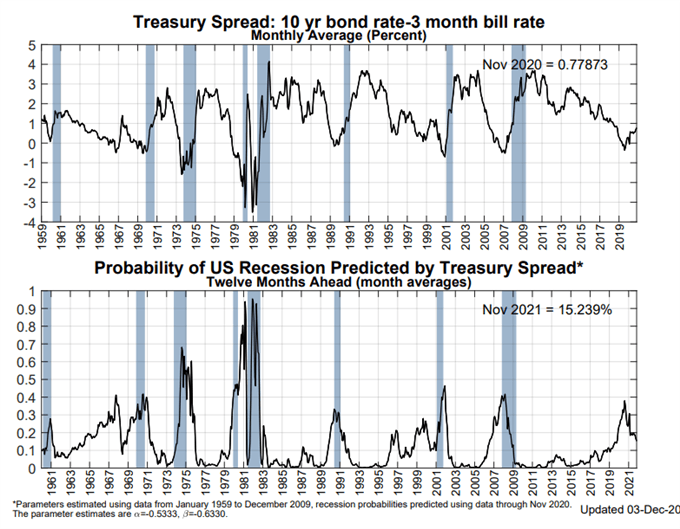 In aggregate, there is currently a 15.2% chance of a US recession in the next 12-months, per the NY Fed Recession Probability Indicator. This tracker never eclipsed 40% during the spring, even as Q2'20 GDP was literally the worst quarter in US economic activity. Once more, the US yield curve is hiding the truth, masking what will likely be more weakness in Q2'21.