US Recession Watch, December 2020 - Yield Curve Hides Slowing Economy
Making Sense of US Economic Data
The US economy is in the midst of a record-setting recovery or is about to fall back into recession – depending upon who you ask. Timeframe matters. With only a few weeks left in Q4'20, it appears that another strong quarter is in the books: the Atlanta Fed GDPNow growth tracker is suggesting that we could see a real quarterly growth rate around +11.2%, per available data through December 9. Amid the initial coronavirus vaccine deployments, the US Treasury yield curve is at its steepest place in weeks.
And yet, something is amiss. US economic data is moving in the wrong direction. The Citi Economic Surprise Index, a gauge of economic data momentum, is currently sitting at +75.8, down by more than -72% from its high set in July at +270.8. For the first time since early-October, US initial jobless claims are back above 800K per week. The November US jobs report was much weaker than anticipated.
Atlanta Fed GDPNow Q4'20 US GDP Estimate (December 14, 2020) (Chart 1)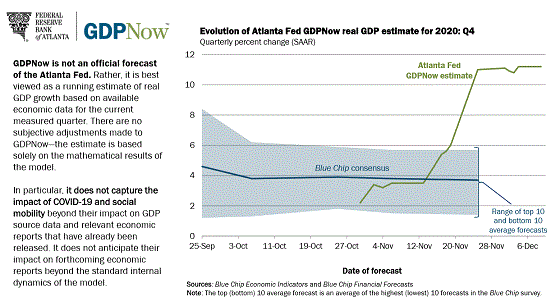 The trope "winter is coming" may be overused, but it's an apt turn of phrase here. The window with which to positively impact Q1'21 GDP is slowly closing as US political leaders remain stuck in gridlock in Washington, D.C. Hopes of a 'blue wave' have floundered, and along with them, faith in a significant fiscal stimulus package during the interregnum.
Instead, the US Congress can barely pass a budget to keep the lights on for more than a week. The fiscal spending package, if it comes together, looks like it will clock in around $900 billion at the high end, a far cry from the $2 trillion that President-elect Joe Biden was promising on the campaign trail (although, if Senate Democrats pull out a miracle in Georgia, that big stimulus push may come after all; stay tuned).
Fed May Be Influencing Price Action
The December Fed policy meeting set to conclude on December 16 brings about the potential for another adjustment to their stimulus program, given that we will see the quarterly Summary of Economic Projections. While a coronavirus vaccine deployment may be reducing risk over the long-run, the upfront economic outlook has soured. But that doesn't necessarily mean that the Fed will act again.