US: Inflation Bears Start To Growl
These developments are on the one hand a positive, in that they reflect optimism about the economic outlook, but it's also likely to be causing some anxiety at the Fed given the timing, speed, and scale of the move in yields. We are still in the middle of the pandemic with Covid cases, hospitalizations, and deaths at record highs. Looking towards Europe, we have to acknowledge there is the risk that mutated strains gain a foothold here in the US, which could result in more containment measures that will inevitably be economically damaging. There is also the question mark over how long it will take to get herd immunity and whether the vaccines actually offer permanent immunity. Economic uncertainty remains very, very high.
Yield curve continues to steepen
(Click on image to enlarge)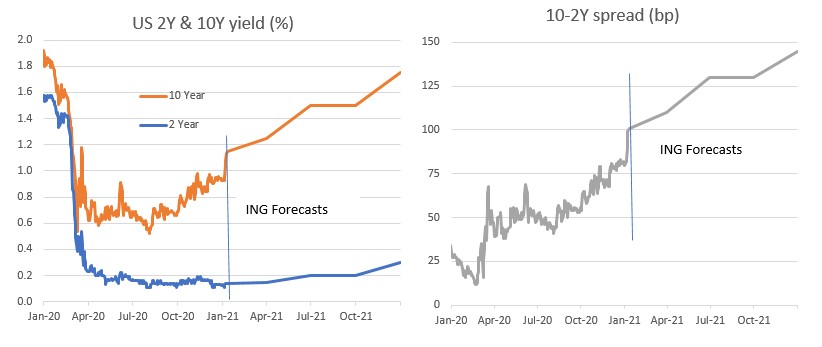 Source: Macrobond, ING
Yield Curve Control back on the agenda?
The Fed will be wary that higher borrowing costs will worsen the growth story at a time when the economy is losing jobs and consumer spending is falling. Consequently, we expect the Fed to more forcefully state they believe any inflation spike will be temporary. Note that St. Louis Fed President James Bullard and Boston Fed President Eric Rosengren both downplayed the prospects of asset purchase tapering yesterday.
If this does not work and yields push higher too far too fast – say threatening to get to 1.5% on the 10Y well before herd immunity is likely to be reached – then the prospect of yield curve control would come onto the agenda. This would involve either increasing asset purchases, or more likely, adjusting the current level of purchases to focus on the longer end of the yield curve.
Disclaimer: This publication has been prepared by ING solely for information purposes irrespective of a particular user's means, financial situation or investment objectives. The information ...
more