US: Inflation Bears Start To Growl
Elsewhere in the service sector it is wages that drive inflation. We have barely had any wage inflation over the past decade and I see no reason for that to change soon, especially when we consider there are still 10 million fewer people in work than before the pandemic started.
Inflation will spike, but it won't last
So, bringing it all together, we are likely to see a near-term spike in inflation on base effects of a reopening economy in 2021 versus a calamitous period in 2020, but that will fade through the second half of 2021. Headline inflation may stay a little elevated through 2022 on strong growth and some supply constraints, but new businesses will pop up and supply will gradually be restored. Longer-term inflation is going to be primarily driven by wage costs given the US is a service sector economy. I continue to doubt that we will see "sustained" US inflation meaningfully above 2% over the longer term.
Moreover, the past decade has shown how hard it is to consistently achieve the Federal Reserve's 2% inflation target. Their favored measure - the core personal consumer expenditure deflator - has hit or risen above 2% on just 13 occasions out of a possible 144 since the Global Financial Crisis – a less than 10% success rate despite massive quantitative easing and huge tax cuts!
Remember too that the Fed has recently moved the goalposts and is now saying it won't raise interest rates until inflation " is on track to moderately exceed 2% for some time", backed up by their dot plot diagram suggesting no rate hike until 2024. This only reinforces our view that the Federal Reserve will "look through" this period of above-target inflation.
Hitting 2% inflation isn't easy... (YoY inflation measures excluding food & energy)
(Click on image to enlarge)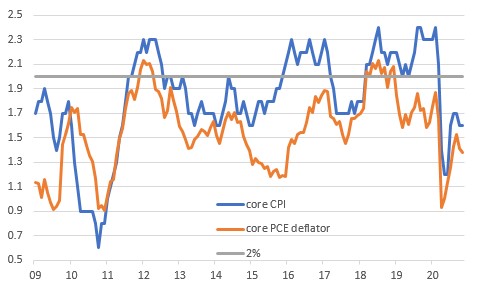 Source: Macrobond, ING
But it could be bad news for bonds
Nonetheless, 2Q into 3Q will be a period where inflation readings look high and this could spook some investors. Break-even inflation rates calculated from government index-linked bonds have risen sharply and longer-dated yields have broken decisively higher with the 2-10Y yield curve at its steepest since May 2017. The latter move may also partially reflect some anticipation of higher debt issuance under President Biden and a Democrat-controlled Senate and/or the recent discussions about potential tapering of the Fed's QE program, which is currently operating at a rate of $80bn of Treasury purchases and $40bn of mortgage-backed securities purchases every month.
Disclaimer: This publication has been prepared by ING solely for information purposes irrespective of a particular user's means, financial situation or investment objectives. The information ...
more