US: Fed Holds, But Optimism Is Creeping In
The Federal Reserve has left monetary policy unchanged and continues to signal the first rate rise won't happen until 2024. However, the forecasts point to a more positive outlook while we believe that there is a better growth and employment story that will lead to an earlier QE taper and a summer 2023 rate hike.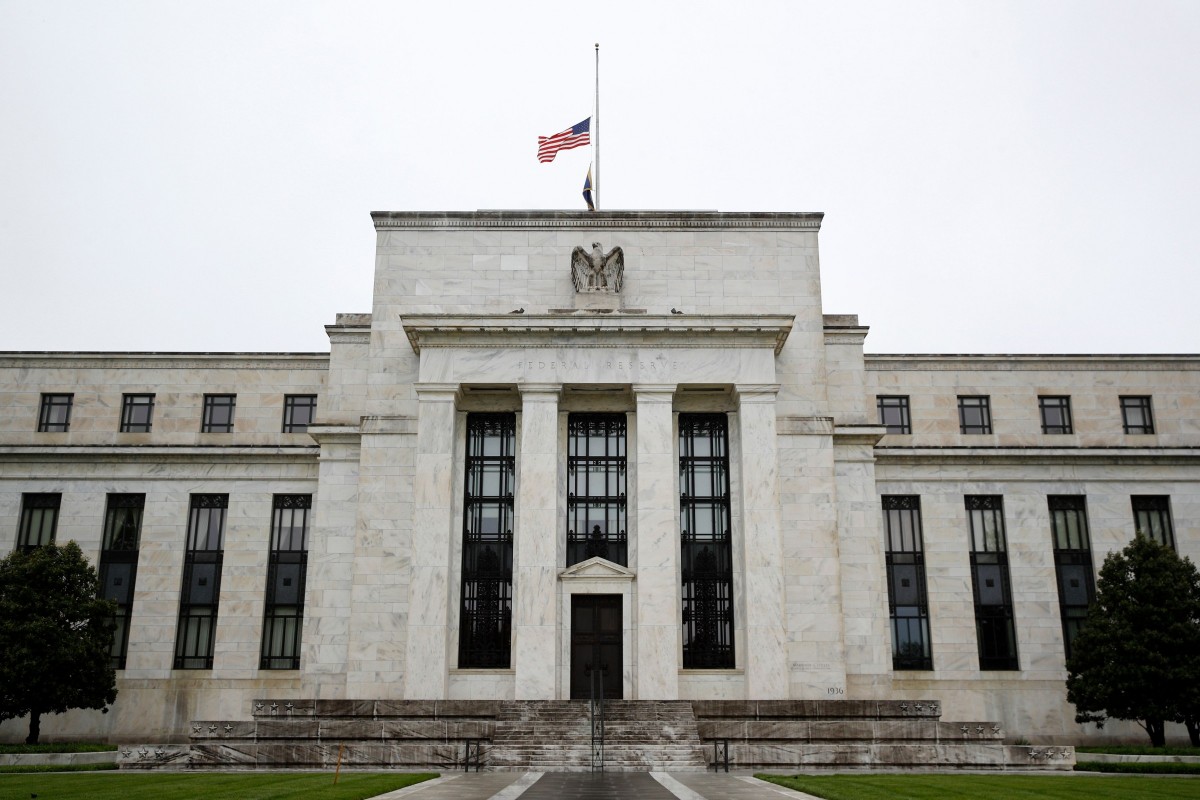 Federal Reserve
Stable rates, stable QE
No surprises from the Federal Reserve as they unanimously leave monetary policy unchanged. The Fed funds target range remains 0-0.25% and their quantitative easing program is untouched. The statement reiterates that the $120bn of monthly asset purchases split $80bn for Treasuries and $40bn for MBS will continue "until substantial further progress has been made toward the committee's maximum employment and price-stability goals."
The descriptive element of the statement is little changed from the one released in January other than to acknowledge economic indicators have "turned up recently, although the sectors most adversely affected by the pandemic remain weak".
It isn't exactly effusive stuff, but their accompanying forecasts suggest much more optimism versus December and in the accompanying press conference Fed Chair Jerome Powell at least acknowledges that the situation is improving. Nonetheless he also argues that the economy is a long way from being healed.
By implication, withdrawing the stimulus too early outweighs the risks from withdrawing it later and "no-one should be complacent". The message remains the Fed is going to do all it can to make sure the recovery happens and it feels it can remain patient before removing stimulus.
Fed dot plot of individual members forecasts for Fed funds target rate
(Click on image to enlarge)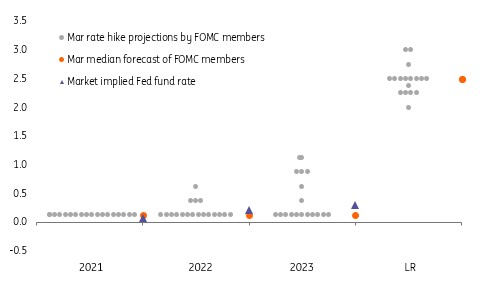 Source: Federal Reserve, ING
Dot plots still favouring a 2024 rate hike
The Fed have published new forecasts and have raised their 2021 growth forecast (it is YoY% change between 4Q21 and 4Q20) from 4.2% to 6.5% and lowered their 4Q21 unemployment forecast to 4.5% from 5.0%. They also raised their inflation forecasts with the core PCE deflator expected to end the year at 2.2% rather than 1.8% and come in at 2% in 2022 and 2.1% in 2023.
Despite this the all-important dot plot shows modest changes, but the median forecast remains for no rate rise before 2024. There has been some movement though with 7 FOMC members out of 18 now predicting a rate rise by end-2023, up from 5 out of 17 three months ago. We also now have 4 members going for a rate rise in 2022 versus 1 in December. Once again no-one predicts a rate rise this year while the long-run target for the Fed funds rate remains 2.5%.
This isn't a surprise. Bringing forward the median forecast for the first-rate hike into 2023 wouldn't had fitted Fed Chair Jerome Powell's narrative. Signaling an earlier move would have given more ammunition for the bond market to push yields significantly higher just when Powell has been indicating his concern that "disorderly conditions in markets or a persistent tightening in financial conditions that threatens the achievement of our goals".