US Debt Ceiling Drama Piles On Yet More Unwanted Pressure
The US debt ceiling drama is back with its usual political farce. Unfortunately, it matters. 'Extraordinary measures' are keeping the show on the road for now. But any delay to a budget deal runs the risk of debt downgrades, Fed taper delays and even the possibility of a government shutdown. Given Covid, it's the last thing anyone needs or wants right now.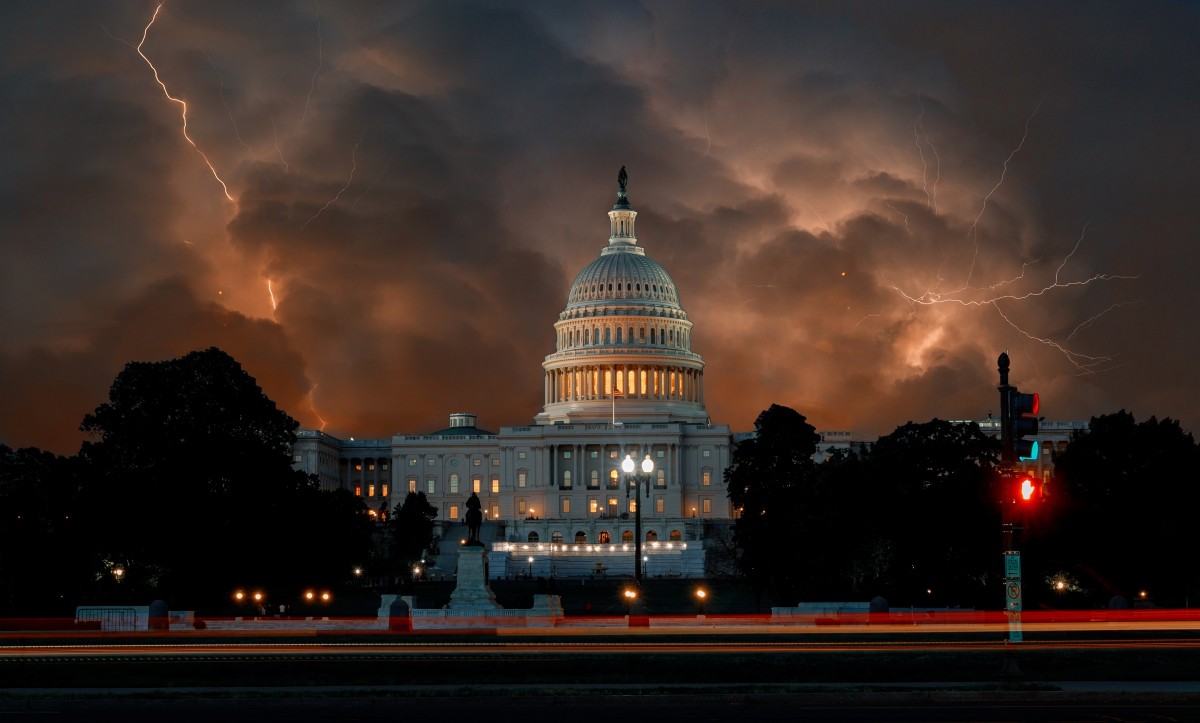 Storms around the Capitol building, where Congress sits, could be an omen for the debt ceiling drama
It comes around like clockwork
The debt ceiling is just one more thing that sets the US apart from most other countries. Ordinarily when a country outlines its spending plans and they are approved the government can simply borrow what it needs. In the US there is sometimes an extra hoop to go through whereby if the level of accumulated debt were to go over a set level – the debt ceiling – Congress needs to approve this by raising the debt ceiling level to a new higher figure.
Since its inception in 1917, the debt ceiling has been raised well over 100 times, mostly without incident. However, recent years have seen more fractious politics on Capitol Hill. One implication is the debt ceiling has increasingly been used as a tool to obstruct legislation and score political points while often disguised as an effort to instill fiscal discipline.
Such impasses have previously resulted in a debt downgrade, government shutdowns, and major market volatility and we should be alive to the risks of this happening again this year.
Extraordinary measures only last so long
In a deal struck back in 2019, the debt ceiling was raised to $22tn before being suspended until July 31st, 2021 during which time it was adjusted to the current level of debt – which is now $28.5tn. Given the expiration of this deadline and no new deal in sight, the US Treasury has the tricky task of preventing an increase in debt at a time when government expenditure is running well ahead of tax revenues.
Total US government debt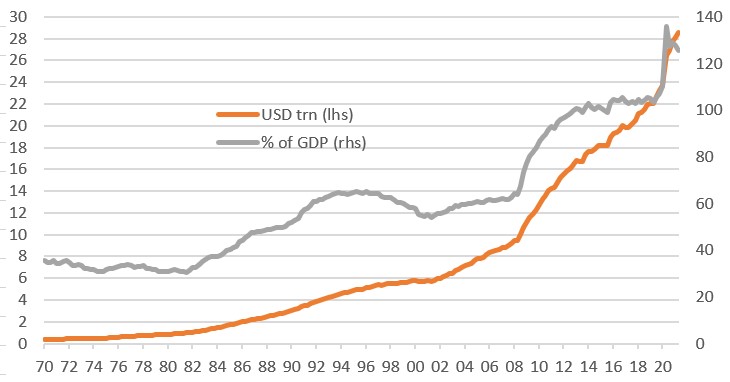 Source: Macrobond, ING
To pull this off they are using skillful accounting. The Treasury has published a list of 'extraordinary measures' that will 'prevent the United States from defaulting on its obligations as Congress deliberates on increasing the debt limit'.
The Treasury's "Extraordinary Measures"
suspending sales of State and Local Government Series Treasury securities
redeeming existing, and suspending new, investments of the Civil Service Retirement and Disability Fund and the Postal Service Retiree Health Benefits Fund
suspending reinvestment of the Government Securities Investment Fund
suspending reinvestment of the Exchange Stabilization Fund.
However, these measures can only prevent a breach of the debt ceiling for so long. Most estimates suggest it gives the government a few months of breathing space, perhaps to October or maybe November. If the ceiling hasn't been raised (or suspended again) by that point we will either need to see draconian cuts to government spending – the government shutdown route – or the country defaults on its interest payments.
Disclaimer: This publication has been prepared by the Economic and Financial Analysis Division of ING Bank N.V. ("ING") solely for information purposes without regard to any ...
more