Uncertainty Over The Dot Plot
The Fed didn't hike rates at its June meeting nor did it change its planned asset purchases. This was expected, yet the stock market fell modestly and treasury yields rose decently (and then reversed on Thursday). Some commentators used those reactions to claim the Fed changed its policy even though there was no hike or end to QE announced. Since hikes will occur after QE ends, the first hike will probably be in 2023 at the earliest. The shift in the dot plot caused modest chaos in markets. 7 FOMC members are calling for a hike in 2022 which is up from 4. 13 members are calling for a hike in 2023 which is up from 7.
Thirteen of 18 FOMC participants now feel it is appropriate to move U.S. monetary policy off the zero bound (i.e., liftoff) in 2023. Two participants are calling for as many as six hikes by end-2023. pic.twitter.com/xKf8TOEgCL

— Jeoff Hall (@JeoffHall) June 16, 2021
The chart above shows the median expected Fed funds rate at year-end through 2023. Of course, many of these members won't be around to hikes rates in 2023. Powell is more dovish than this. Therefore, during his presser, he tried to discount the prospects of hikes. This is something he will need to work on in 1-2 years when we reach the point when members want a hike. The good news is he will have the data on his side next year. Inflation will be lower than this year. On the other hand, the unemployment rate will also be lower.
Increase In Uncertainty
The chart on the left shows the inflation uncertainty dispersion among FOMC members increased in June compared to March. This is odd because the pandemic is more under control now than it was in March. The economy should be more predictable now. Inflation has spiked, but that should have been expected.
(Click on image to enlarge)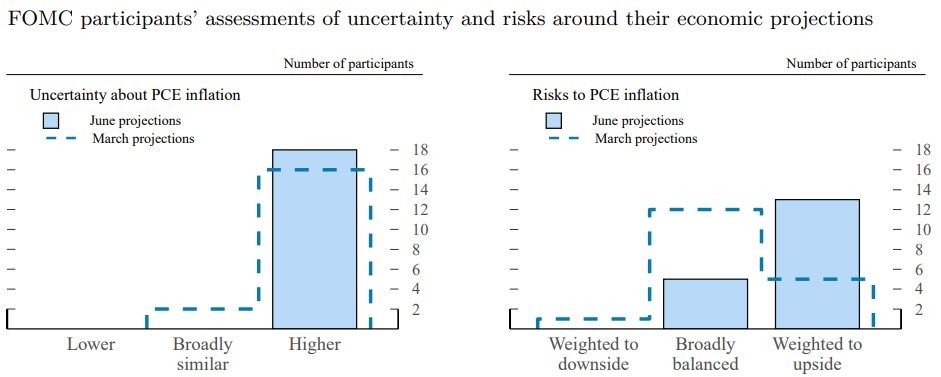 A few FOMC members might be overreacting to near term data. There is some outside pressure to hike rates even though this inflation is transitory. The Fed didn't hike rates, but the dot plot forecasted more hikes which is reactionary. Remember, guidance is policy. Official Fed guidance didn't change, but members have altered their views. As you can see, two more members said PCE inflation was more uncertain. It shouldn't be more uncertain since the current spike in inflation was highly predictable.
Disclaimer: The content in this article is for general informational and entertainment purposes only and should not be construed as financial advice. You agree that any decision you make will be ...
more