Treasury Now Projects Borrowing $900 Billion Less This Quarter: What That Means For Markets
Three months ago, when the US Treasury released its latest estimate of borrowing needs estimate for the current fiscal quarter, we were struck by the Treasury Department's expectation that cash balances would plunge by almost a record trillion dollars, from $1.782TN to $800BN, ostensibly to fund the fiscal stimulus that was expected to pass in the fourth quarter of 2020 yet which never happened because even as the $900BN stimulus was passed, it wasn't until Q1 that the funds started being disbursed.
This is why when the Treasury released its latest estimate of marketable borrowing estimates (i.e., debt and cash) before the close today, it made a rather remarkable revision to its prior forecast: as of this moment, the Treasury expects to borrow just $274BN in the current quarter, down a whopping 75% or $853 billion from its $1.127TN projection in Nov '20. Absent changes, it would be the lowest borrowing in seven quarters and the lowest for any Jan-Mar since '17 according to Reuters.
The sharp drop in borrowing assumes assuming an end-of-March cash balance of $800 billion (down $929BN from $1.729 trillion at Dec 31, 2020) which as a reminder, the Treasury had expected would be the case at year-end 2020 back on Nov 2, 2020, but that drop in cash never actually took place. It's also why as the Treasury notes, "the decrease in privately-held net marketable borrowing is primarily driven by a higher beginning-of-January cash balance as a result of lower-than-assumed expenditures."
(Click on image to enlarge)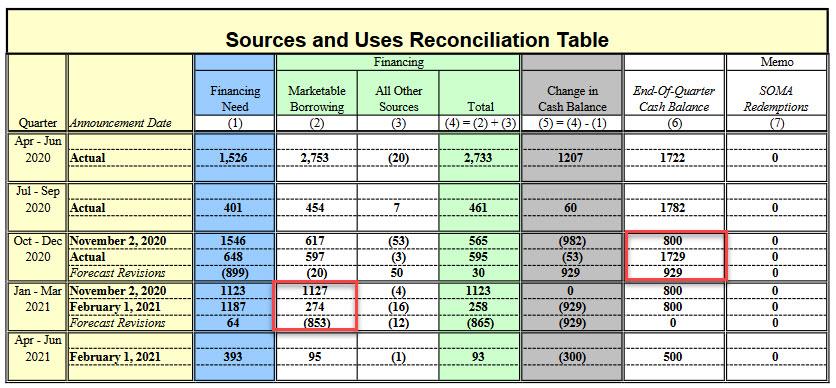 In other words, had Trump used up roughly $1 trillion in cash the Treasury had previously budgeted for spending on fiscal stimulus, there would be no surprises today, and instead of the cash balance dropping to $800BN in this quarter, it would have done so last quarter. Instead, the Treasury now expects the decline in the cash balance this quarter - which is being spent to fund last December's fiscal stimulus - to be the main driver of funding needs.
Disclosure: Copyright ©2009-2021 ZeroHedge.com/ABC Media, LTD; All Rights Reserved. Zero Hedge is intended for Mature Audiences. Familiarize yourself with our legal and use policies every ...
more