Transitory Or Not: Three Factors Will Determine If Skyrocketing Prices Are Here To Stay
Transitory or not transitory, that is the question.
The challenges from cracking supply-chains and the resulting strain on production and inventory are being felt widely. If you are looking to furnish a home, you have probably dealt with major delays in the delivery of your new sofa and may instead be sitting on beanbags. If you are looking to buy a car, you might be walking out with the sticker price and the wrong color. And good luck if you are trying to rent a car: if only Hertz had waited a year to file for bankruptcy it would be worth tens of billions today.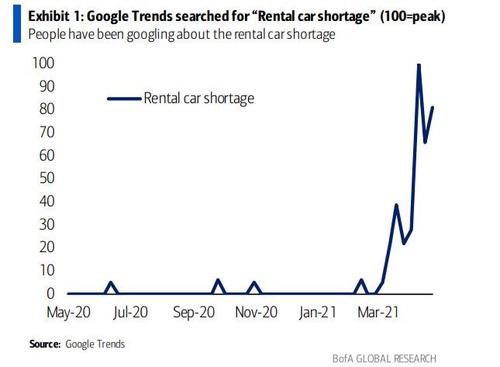 The latest scorching CPI report highlighted these challenges, revealing a record 10% mom increase in used car prices and 16.2% spike in rental car prices, which was second only to June last year.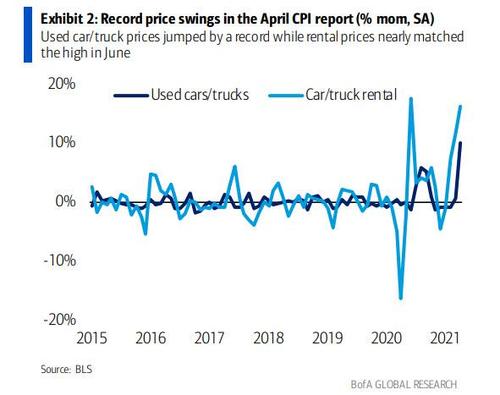 More broadly, core CPI jumped 0.9% mom SA, the biggest monthly gain since 1981 with record increases in a number of categories. Indeed, 0.7pp of the gain in core CPI owed to just eight categories with used car/truck prices having an outsized contribution of 38bp.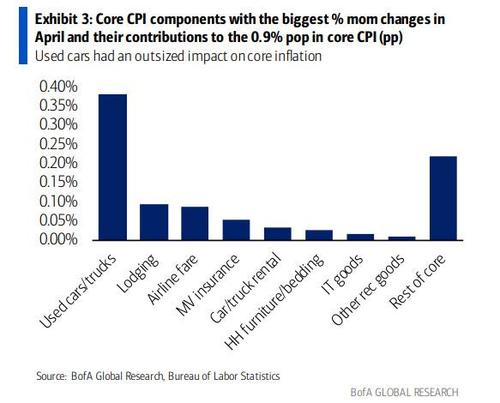 As Bank of America notes, the auto sector is especially interesting as the ongoing chip shortage has led to a historic drawdown in real retail inventories (explored in detail later),as auto manufacturers have been forced to cut back production. This helps explain the strength in used car prices, up 10% mom in April. Typically a source of a supply for used cars, rental companies are holding onto their fleets amid the rebound in travel demand and are actually purchasing used cars, adding further pressure in the market. Indeed, Manheim wholesale used cars prices spiked another 8.3% mom in April, building on the 11.2% increase from January through March. This argues for another huge shock to core CPI in coming months from used cars. Rental companies have also jacked up their rates, up 16.2% mom in April, given these frictions.
The chip shortage has not only affected autos, but production of other goods as well including computers, represented in IT goods prices (+3.6% mom in April). Household furniture and bedding also saw a notable price increase of 2.1% mom, though real I/S ratios for furniture retailers have only edged down slightly as of February, driven by stronger demand.
The rebound in travel demand and driving has additionally boosted lodging (+7.6%), airline fares (+10.2%), and motor vehicle insurance prices (+2.5%). Lodging and airline fares were beaten down during the pandemic and remain 4.9% and 17.7% lower than pre-pandemic levels, suggesting significant scope for a rebound. So, as we head into the peak summer travel season, even Bank of America warns that "prices could continue to skyrocket."
Considering these dynamics, core inflation is likely to be particularly robust through August but then ease as we head into year-end, with some risk of a negative payback on a mom basis given the noise. As a result, BofA has updated its core CPI trajectory as shown below, which will lead the % yoy rate to surge to a high of 3.7% in June before moderating to 3.5% in December (3.4% 4Q/4Q). On a sequential basis, the April surge is the peak, with the May print expected to come in at just about half, or 0.5% mom. That said, BofA views these price pressures as "transitory" with core CPI cooling down to 2.5% yoy through 2022.
Disclosure: Copyright ©2009-2021 ZeroHedge.com/ABC Media, LTD; All Rights Reserved. Zero Hedge is intended for Mature Audiences. Familiarize yourself with our legal and use policies ...
more