Too Big To Bail?
GLOBAL STOCKS
A Bull Trap may likely be the consequence of failed initial attempts by Monetary & Fiscal Policies of world governments and Central Banks to stop the financial fallout from the CoronaVirus triggered market crash. The actual size of bailouts now required on a global basis will soon become evident and the markets will react accordingly!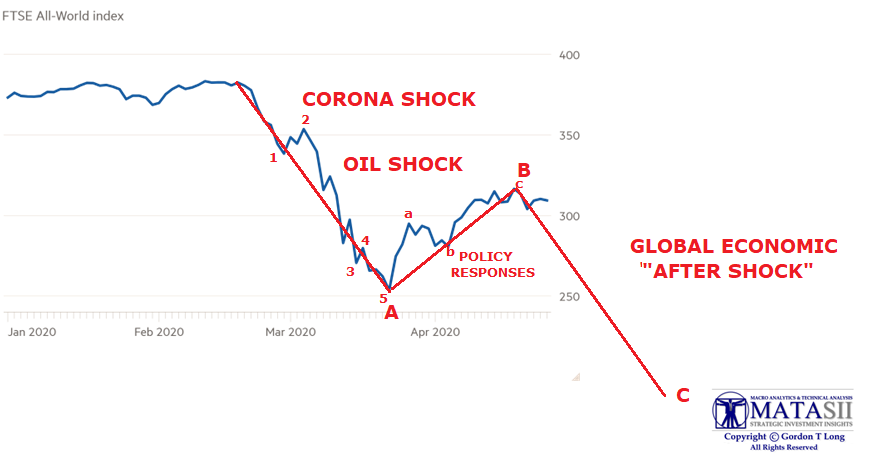 THE GLOBAL CENTRAL BANKS ARE BAILING DESPERATELY!!!
The major Central Banks have initially answered the call with bail-outs as can be seen in the chart below. Wall Street, the financial sector and obvious sectors such as airlines, hospitality, leisure etc. have benefited, but little Monetary actions in reality has made it's way to Mainstreet America.
Fiscal Policy in America has enacted a 4 Phase approach totaling $3T but also little is reaching Mainstreet in any sort of timely & adequate fashion. Unfortunately, bureaucracy & graft as we detail in this month's video, is the worst this writer has ever witnessed in 25 years of chronicling government policy.
HOWEVER, THE SHIP IS TAKING WATER FASTER THAN GLOBAL CENTRAL BANKS CAN BAIL!
With the above said what happens when global governments must confront the realities of the following:
CAN GOVERNMENT DEFICITS ADDITIONALLY HANDLE AN ENERGY SECTOR COLLAPSE?
The oil market is broken because it was not a free market. It benefited from direct and indirect subsidies to create overcapacity and excess supply, and it has become a consequence of the excess in monetary and fiscal policies. The energy sector has become the clearest example of a "too-big-to-fail" mistake. Unfortunately, malinvestment will be -again-rewarded, and the oil market is likely to remain as inefficient and bloated as the coal and aluminum ones. There will be volatility. But the long-term value destruction of the sector, both from state-owned and private entities, will remain.
Expect governments and central banks to soon bail out the entire mal-investment binge of the past decade and, more importantly, incentivize even more overcapacity through massive stimuli, liquidity injections, and negative rates.
Disclaimer: Information herein was obtained from sources which Mr. Long believes reliable, but he does not guarantee its accuracy. None of the information, advertisements, website links, or any ...
more