"There Are Absolutely No Job Seekers": How Trillions In Stimulus Sparked A Historic Job Market Crisis
Something odd is going on in the US economy.
On one hand, in the aftermath of the covid pandemic, there are millions and millions of former workers who have lost their jobs and are unable to return as their job may not even exist today (while their skills atrophy and they become increasingly unemployable with every day they are unemployed). Addressing this, on Thursday Fed Chair Powell spoke at an IMF panel saying that over nine million Americans remains out of work, while a quick look at the latest BLS data shows that there are over 100 million Americans who are out of the labor force (of whom just 6.85MM want a job currently, and a record 94 million don't want a job).
(Click on image to enlarge)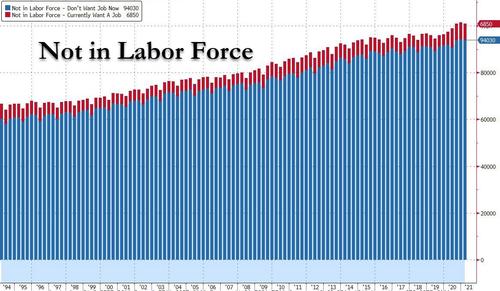 At the same time, as we pointed out last night, JPMorgan and many others have noted that when one looks at the recent JOLTS data, which showed a near-record number of job openings, a clear trend is emerging: there is a big labor shortage in the US, one which could (finally) lead to higher wages in the US.
(Click on image to enlarge)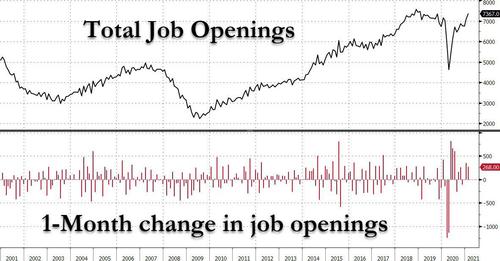 While JPMorgan did not dwell on what may be causing this unprecedented schism within the economy - after all, for normalcy to return, people must not only be employed but must want to be employed - it did suggest that the "robust" government stimulus may be keeping workers on the sidelines, a more detailed analysis from Bloomberg confirms the nightmare scenario: the trillions in Biden stimulus are now incentivizing potential workers not to seek gainful employment, but to sit back and collect the next stimmy check for doing absolutely nothing in what is becoming the world's greatest "under the radar" experiment in Universal Basic Income.
Consider the following striking anecdotes:
Early in the Covid-19 pandemic, Melissa Anderson laid off all three full-time employees of her jewelry-making company, Silver Chest Creations in Burkesville, Ky. She tried to rehire one of them in September and another in January as business recovered, but they refused to come back, she says. "They're not looking for work."
Sierra Pacific Industries, which manufactures doors, windows, and millwork, is so desperate to fill openings that it's offering hiring bonuses of up to $1,500 at its factories in California, Washington, and Wisconsin. In rural Northern California, the Red Bluff Job Training Center is trying to lure young people with extra-large pizzas in the hope that some who stop by can be persuaded to fill out a job application. "We're trying to get inside their head and help them find employment. Businesses would be so eager to train them," says Kathy Garcia, the business services and marketing manager. "There are absolutely no job seekers."
These are not one-off cases: these real-life events, revealed by Bloomberg, expose the striking statistical reality in the US: on April 1 the NFIB (National Federation of Independent Business) reported that in March a record-high percentage of small businesses surveyed said they had jobs they couldn't fill: 42%, vs. an average since 1974 of 22%.
Disclaimer: Copyright ©2009-2021 ZeroHedge.com/ABC Media, LTD; All Rights Reserved. Zero Hedge is intended for Mature Audiences. Familiarize yourself with our legal and use policies every time ...
more