E

The S&P 500 Will Continue To Rise Thanks To The Fed Funds Rate, High-Yield Differential, And Government Fund Flows
The story that is part of the market's "common sense" tells us that rising rates cause bear markets. The chart below shows this is not true. In fact, it would be more accurate to say that rising rates cause bull markets and that it is "too-high" rates which cause markets to top out--what the market considers "too-high" has been steadily decreasing geometrically since the early 1980s. Now that the Fed is unlikely to continue raising rates, the picture that emerges is similar to the bull market of the 1990s (tech-bubble) when the FFR was gently reduced over the course of 5-years while the market ripped higher. The market is not changing its bullish primary trend anytime soon (chart below).
(Click on image to enlarge)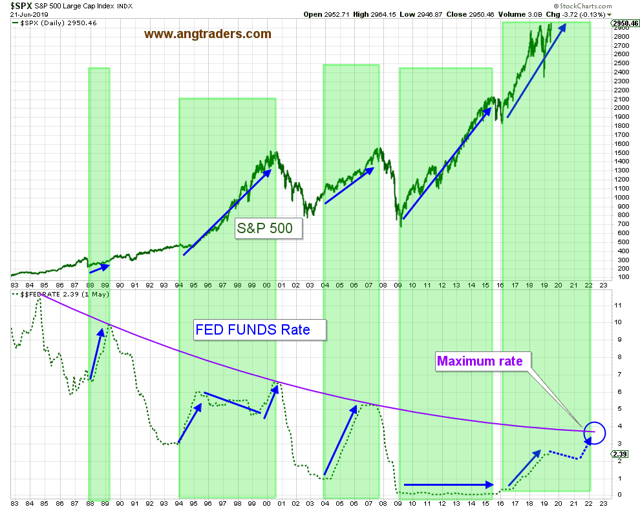 The spread (arithmetic differential) between the high-yield bonds and the Treasury bond yield correlates inversely with the SPX. A similar pattern to 2011-12 is emerging (colored ovals in the chart below) where the yield differential makes a double Top and the SPX rips higher.
(Click on image to enlarge)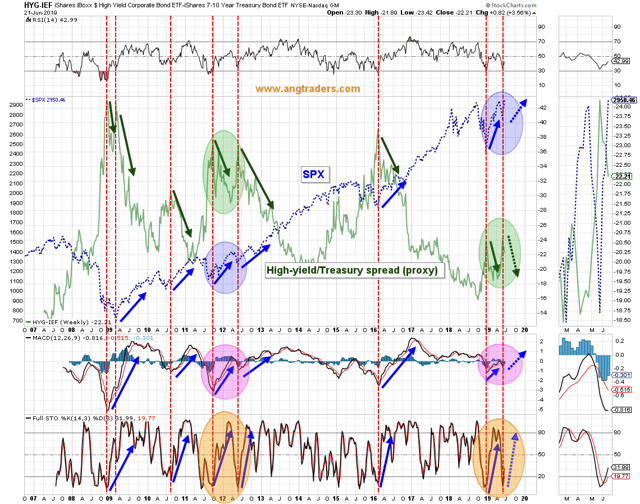 Fiscal flows are crucial to the performance of the market; it is the granddaddy of "follow-the-money" concepts. We are assuming that the US Federal Government will agree on a new spending bill and raise the (artificial) debt ceiling soon because the alternative--government shutdown and voluntary default--would be a disaster. So from this perspective, deficit spending will continue into the summer taking the market higher until September when mid-year tax remittance will put the government budget into surplus and the market into a pullback one month later (chart below).
(Click on image to enlarge)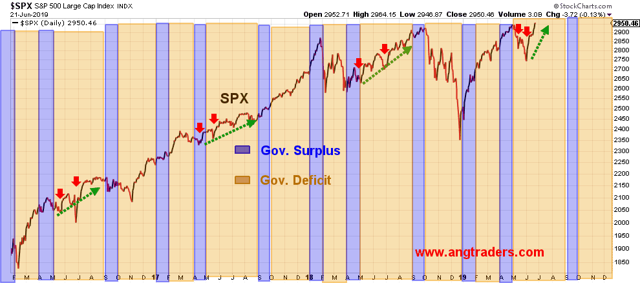 In summary: The economy is continuing to expand (even though the rate of expansion is lower), the Fed is determined to keep it expanding, and when the debt ceiling is raised or suspended the market will continue to rise.