The Real Risk Of The Trade War
Summary
It is difficult to see the Chinese caving to the demands of the Trump government, which seem to involve a wholesale change of China's economic model.
Either some middle ground is found or we risk a serious escalation with multiple risks to the state of the world economy, with many known and unknown facilities.
The end state could be a wholesale decoupling of the American and Chinese economies, and while some would applaud such an outcome, it's unlikely to be better than what we've got.
The Trump administration seems to have the illusion that if you raise the stakes high enough, other countries will cave to US demands. There might also be an element of creating foreign adversary in order to unite the domestic front, we don't know.
Trade tensions have been taken way too far when the government slapped tariffs on Canadian steel exports because of national security concerns, but in the case of China, there are some legitimate concerns. Mind you, these concerns don't involve:
China's mercantilism - its trade surplus has all but vanished (see below).
The bilateral trade deficit the US has with China that's way overstated (much of the value added comes from other countries, most notably the US), meaningless and not amenable to change from deliberate policy measures (the US trade deficit is caused by a lack of savings with respect to investments; in so far as policy manages to reduce the bilateral trade deficit with China, the deficit will simply reappear elsewhere as long as the saving/investment balance isn't changed).
While China has "manipulated" its currency in the past in order to keep it low, in recent years they've done exactly the opposite, trying to keep their currency from falling.
China isn't paying for the tariffs, US importers and consumers are.
Trade isn't a zero-sum game.
This doesn't look particularly mercantilist: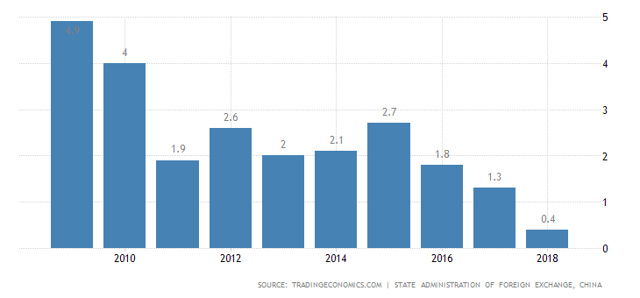 (Source: Trading Economics)
Negotiating with countries is different from the wheeling and dealing world of New York real estate. This should be especially clear with a nation-first politician like Donald Trump.

Continue reading on Seeking Alpha.