The Illusion Of Stability, The Inevitability Of Collapse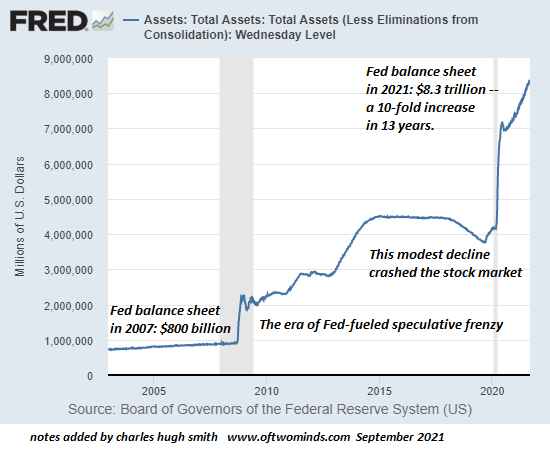 Other central banks followed this same expansion of monetary stimulus. If GDP has normalized, then why the continuing panic-expansion of monetary stimulus? The only logical explanation is the system was breaking down before the pandemic and its decay has accelerated.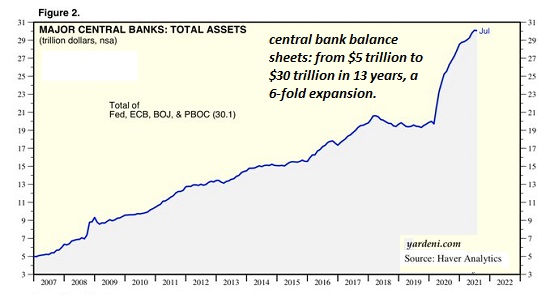 We all know what happens when the expansion of debt, leverage, speculation, and central bank stimulus falter by even the tiniest bit: the entire global phantom wealth bubble pops: this is visible in the chart of total debt, public and private: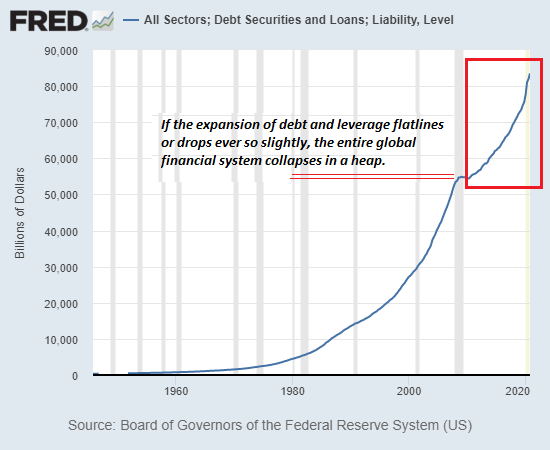 Beneath the illusory stability of rising GDP, the extremes of debt, leverage, stimulus and speculative frenzy required to keep the phantom wealth bubble from imploding are all rising parabolically. Every attempt to return to an economy that's not dependent on debt-asset bubbles and unsustainable expansions of debt and monetary stimulus has triggered a global market crash which can only be saved by doubling, tripling or quadrupling the previous levels of debt and stimulus.

This is why collapse is now inevitable. Parabolic blow-off expansions generate instabilities that cannot be suppressed by doing more of what's failing; that is called run to failure for a reason: the only possible outcome is systemic failure, i.e. the collapse of the phantom wealth bubble, a collapse which will bring down the entire machinery of bubble-blowing.

Before you pop that bottle of champagne, you better check out the generator room first. Duct tape, frayed wiring, the scent of overheated metal, and rotted 2X4s are not going to keep the party lights going much longer.