The Illusion Of Stability, The Inevitability Of Collapse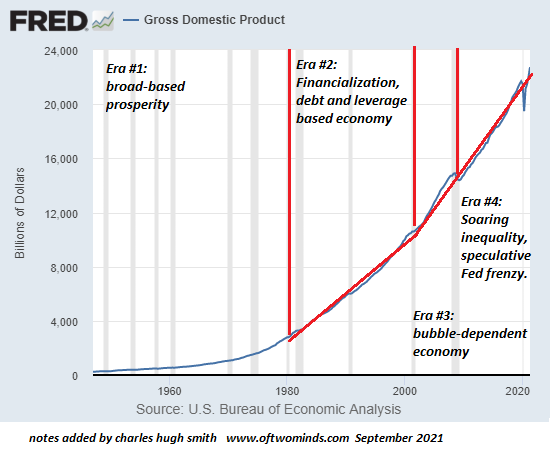 Here's real GDP, adjusted for official inflation (in chained 2012 dollars). Looks very similar to nominal GDP: if we look at the steady ascent of real GDP, we'd imagine the nation's prosperity is even more broad-based and solid than in Era #1, but we'd be wrong: Eras #2, #3, and #4 are characterized by rising inequality, the death-spiral decay of middle-class purchasing power and total dependence on skyrocketing stimulus, debt, leverage, and speculation.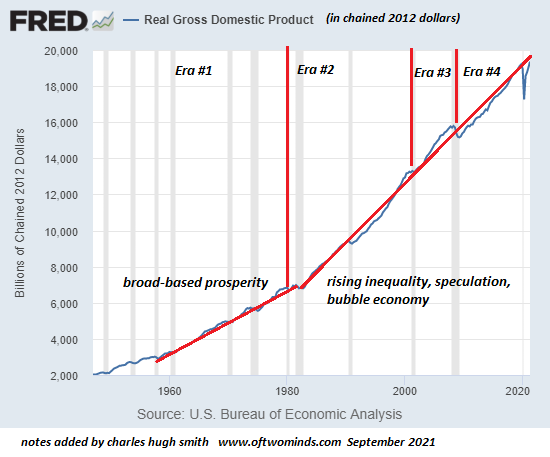 Here's a glance beneath the surface: federal debt has exploded higher: in Era #2 (Financialization), federal debt rose from less than $1 trillion in 1981 to $5.7 trillion in 2000-- about a 6-fold increase over 20 years. The next 20 years saw federal debt rise from $5.7 trillion to $23.3 trillion in early 2020 (pre-pandemic), and since then, a sharp ramp to $28.5 trillion.

You see the trend: GDP rose about 7-fold while federal debt rose 30-fold--mostly in the last 13 years of Era #4.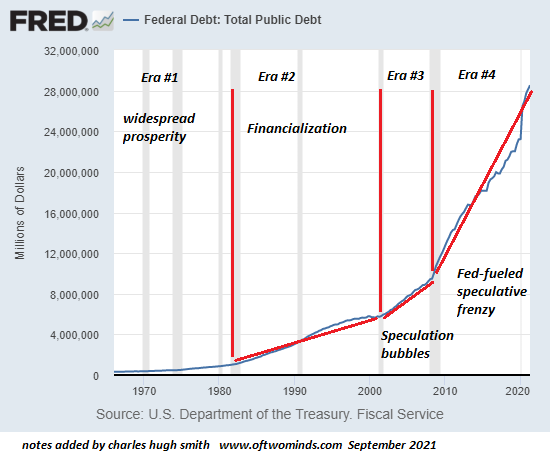 This chart of federal debt as a percentage of GDP is enlightening: notice than in Era #1 (broad-based prosperity), the percentage declined as GDP grew at a faster rate than federal debt. In Era #2 (financialization), debt rose far faster than GDP, but the dot-com boom reduced the percentage to around 60%, double the percentage in Era #1.

Era #3, the bubble economy, remained in the same range, but the trend changed in Era #4, after the Fed's Bubble #2 popped, almost bringing down the entire global financial system. In the era of speculative Fed frenzy (Era #4), the debt quickly rose to 100% of GDP and then made another quantum leap above 120%--a developing-world-kleptocracy level.

While prosperity was replaced by inequality and Fed-inflated speculative bubbles, debt as a percentage of GDP rose 4-fold.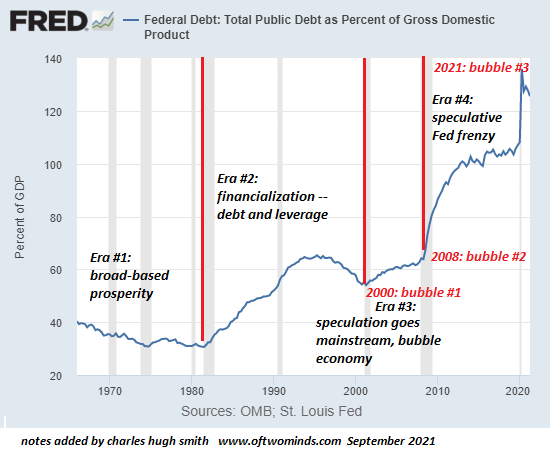 Speaking of parabolic blow-offs, here's the Federal Reserve balance sheet, up 10-fold in a mere 13 years. Remarkable, isn't it, that the U.S. economy managed decades of expansion with the Fed balance sheet far below $1 trillion, decade after decade, but now the economy needs the Fed to create $7.5 trillion and throw it on the bonfire of speculative bubbles to keep the economy from imploding.

GDP in 2007 was $14.7 trillion and the Fed balance sheet was $800 billion, or 5.4% of GDP. Now the Fed balance sheet is over 36% of GDP, about a 7-fold increase in a mere 13 years. Notice the rate of expansion is near-parabolic, even as GDP has recovered to pre-pandemic levels.